Senator Gershaw students get a green thumb
Posted on March 17, 2021 by 40 Mile Commentator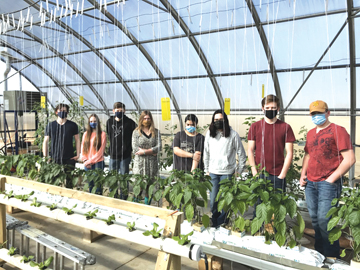 Submitted by Rylie Schiebelbein, Grade 10 greenhouse student
Senator Gershaw School's Greenhouse and Agriculture class is off to a great start.
In January, Senator Gershaw began its first-ever Greenhouse class for senior high students. The students have been learning how to grow and care for plants, test nutrient levels found in water, use Google sites to track what they're doing and run a greenhouse.
The Greenhouse class is currently growing lettuce, peppers, tomatoes, cucumbers, and some different types of flowers. Students in the class have set up an irrigation system so that the produce can be watered at a consistent rate using a timer. The students have also built hydroponic racks for the lettuce and troughs for the other vegetables. These are all steps that will provide the greenhouse with a more efficient system so it can be used to grow high quality produce. Big Marble Farms provided a substantial donation that made this possible.
Senator Gershaw School partnered with Jeff Stigter from Jamco Growers so the students can receive lessons from a professional, and he has visited the school to teach the class how to properly maintain and run the greenhouse. The school also partnered with Larae Pierson from Medicine Hat College to allow the students to gain entrepreneurship skills and learn how to run the greenhouse as a business.
The senior high students that chose to partake in the Greenhouse class this semester will be learning about subjects that fit directly into the Alberta agriculture curriculum. They will also learn about other topics that will provide them with important skills, like entrepreneurship. The class will also be required to take responsibility for the greenhouse, which will increase their leadership and management skills.
"The greenhouse class gives students the opportunity to learn about the hands-on experience involved with agriculture, which is a large industry in the area," says Cory Schiebelbein, the Greenhouse teacher at Senator Gershaw School.