A busy schedule ahead for County renewable energy projects
Posted on March 24, 2021 by 40 Mile Commentator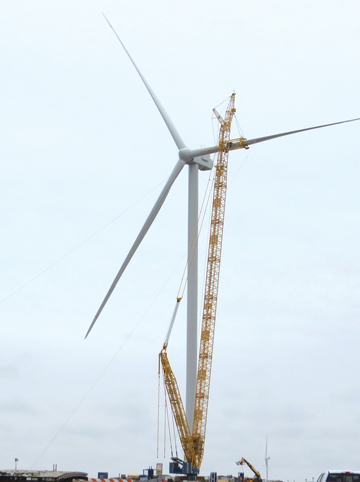 File photo
Commentator/Courier
Renewable energy projects in the County of Forty Mile will be busy under construction this summer.
"Some of our road maintenance managers, they've already been having meetings with Capital Power, Suncor (and) RES and just having some early discussions on protocol for this summer," said Steve Wikkerink, County of Forty Mile reeve.
RES (Renewable Energy Systems) Rattlesnake Ridge project will resume construction in April.
"There's not much going on other then we're receiving some material," said Scott Schreiner, spokesperson for Berkshire Hathaway Canada, who is building the RES project.
"Really, activities are going to start to pick up again here in April and we'll start to get to work on construction of the substation and some road maintenance. Then we start after break up and we're probably getting pretty close to that now. We'll start doing some cable splicing as well and then hope to have the substation completed more in the July and August timeframe."
Turbine parts are to arrive in August and continue to through the end of November, added Schreiner.
"During that time, there will be the staggered erection of those turbines as we go through the process," he said.
"Getting those turbines will take us through year end and then we'll be commissioning and testing, making sure everything is working the way it's supposed to, with the intent of having it in full commercial operation in February 2022."
The project will have 26 turbines producing 130 megawatts.
Suncor will resume Phase 1 of its wind turbine project, 13 kilometres southeast of Bow Island, this summer with their access roads and their turbine bases.
Phase 1 began in later 2019 but was suspended last spring due to COVID-19.
Capital Power's Whitla Wind Farm will be building towers for Phase 2 this summer.
The BluEarth Renewables 20 megawatt Burdett Solar project is expected to come online in May.
"If that does happen in May, then that's really good for the county because they'll be in operation long enough in 2021 that they can already be assessed at the end of the year," said Wikkerink.