Badlands Training Centre provides a family-friendly atmosphere
Posted on March 24, 2021 by 40 Mile Commentator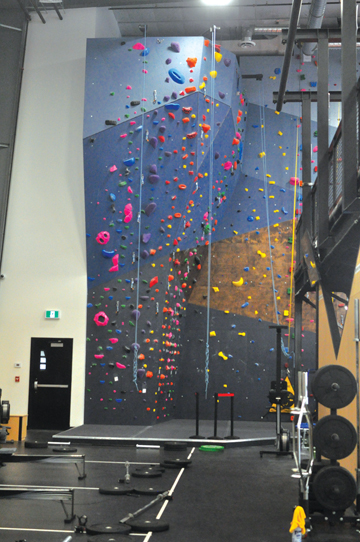 By Justin Seward
Commentator/Courier
One of Medicine Hat's newest fitness centre is not just your everyday come-and-go fitness facility.
The focus of Badlands Training Centre is a place where the community and families can gather and not have to be rushed out right away.
"This isn't a gym where you work out and you leave," said general manager Dallas DeMan.
"It's a gym where you work out and you are welcome to stay. We're not pushing you out the door waiting for the next class to start. We are here to have a smoothie with you afterwards or you may want to jump on our 40-foot climbing wall."
The climbing wall has eight routes that have an auto descent.
"You can climb up, you don't have to have anyone on belay which is a climbing term where you're hooked to a rope. This is an automatic descent where if you let go of the wall, it just brings you down nice and slow."
DeMan said there is climbing for all ages.
Instructors are also available to teach those climbers who want to advance to outdoor climbing.
DeMan pointed out that a person interested in coming in for fitness activities does not need a specific membership to a yoga class, a spin class, a gym or a climbing wall.
"You just belong to one place and some of the classes," said DeMan.
A full membership allows access to child-minding, a spin studio, rowing studio, various yoga, a dance work out studio, high and low fit and a POUND work out.
"And that doesn't include low-intensity training on our main floors," he said.
"On Floor 1, we have 2,300 square feet to do a low-intensity work out. On Floor 2, we have 1,400 square feet. We have 1,500 square feet of turf that (is) bigger than some people's gyms, (and) you have (a lot) of room to do your own little work out and not bother anyone. Is that concept different? Yeah, I would say it is. There (are) not a lot of gyms like it,it's really neat,come for a tour and check us out."
Badlands Fitness Centre also offers a 20-foot x20-foot boxing ring on the upper level with trainers.
"One gentleman who fights in the Mixed Martial Arts industry and another one who is an Olympic boxer," said DeMan.
"So definitely we have top level training here and it's just wonderful. It morphed into that, we didn't expect to have that built, but when we've seen what we can do and the space we had and we're like 'What are we going to do there?' It had plans to be something else before and it moved into that."
DeMan touched on how valuable the training team is to how the gym operates.
"We're here to improve your life (and) health," he said.
"We want you come here so you can get up and down the stairs and do the laundry, pick up your grandchildren, be healthy, be fit for life and make it lifestyle."
DeMan says there is over 130 years of experience with the Badlands training team who are all certified.
More information can found at http://www.badlandsview.com.
Badlands Training Centre is located at 12 Gehring Road SE in Medicine Hat.