Flight Academy students begin the experience of building an airplane
Posted on March 24, 2021 by 40 Mile Commentator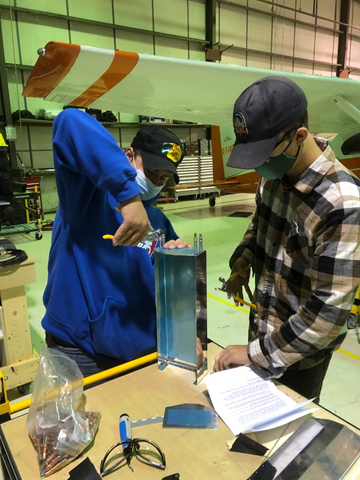 Photo Submitted by Jimi Ricci Colton Kuzik and Isaiah Snyder installing clecos.
Eagle Butte High School's Dave Rozdeba South Flight Academy off-site coordinator Jimi Ricci provided an update last week on where the students are at with the building of the program's first airplane.
"They're pretty excited about that," said Ricci.
"Because of COVID delays, we haven't been able to gain any traction. But for the last few months—since coming back to school after Christmas—we've kind of been working on that uninterrupted every Friday."
There are three different groups working on three different parts of a Vans RV-12is at Super T Aviation in Medicine Hat.
"Nothing is really looking like much of an airplane yet," said Ricci.
"But it won't be long, the next couple of weeks or so, we'll probably be able to put some of these individual parts together to put together the tail section of our aircraft."
Students learn about how the components in the inside transform into the motion of the airplane on the outside, added Ricci.
Toolboxes were acquired in 2019 for the students to learn to perfect their skills inb riveting, drilling, deburring, measuring and bending components before moving on to the aircraft.
"That tool box was an opportunity for them to make mistakes and learn from their mistakes," he said.
The program has six second-year students—three of those are Grade 12— and because those students are graduating this year, they are close to obtaining their pilots licenses.
"Obtaining a pilot's license is kind of a two-part affair," said Ricci.
"The first part, it's kind of like a driver's test. There's a written and a practical. One of our girls has completed the written and now she is just preparing to do her flying tests (Shelby Reiling)
and another one of our young ladies (Lindsay O'Connell) is the opposite, she's completed the flying portion of her test and now she's just preparing to do the written test."
A drone component has been added to course.
"We want to just practice flying drones, he said
"It looks like next year, we're probably going to do some sort of certification in drone training," said Ricci.
The plan is to have an extensive drone fest in May at the Eagle Butte school yard.
The Academy just last week bought six 249-gram mini-drones.
"So we can basically fly them with no training, no certification. We can fly them in our school yard, it's not a restricted air space of any kind," said Ricci.
The Academy had 11 student register last year and some of them fell away, while this year the program gained 12 new students.
"We hope to continue that growth as word gets out and popularity grows about the program," said Ricci.
The Academy posts three to four times on their social media channels as to what the students are doing.
"We've also started advertising the billboard campaign to get the word out."
Program updates can be found on the South Alberta Flight Academy Facebook page or on Instagram at southalbertaflight.