Shortgrass Library System faring well during pandemic
Posted on March 24, 2021 by 40 Mile Commentator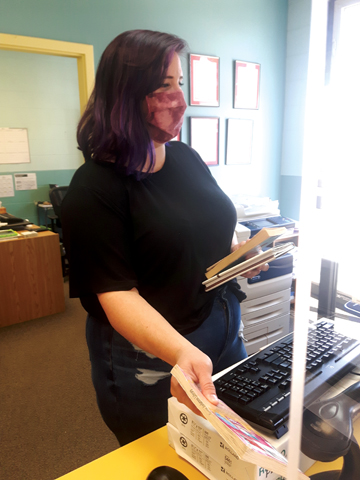 Photo submitted by Kathryn Van Dorp Susan Andersen Library employee Laura Kennedy checks out the library materials last week.
By Justin Seward
Commentator/Courier
Member libraries in the Shortgrass Library System have been able to navigate through the challenges the COVID-19 pandemic has brought on in the last year with many adjustments made to their operations.
The local library system has been able to adapt by being flexibile and innovative."Everything from the different quarantine protocol(s) to keeping their staff safe to making sure the materials are disinfected to the best of their ability," said Petra Maueroff, Shortgrass Library System's chief executive officer.
"We have libraries who have also done home deliveries for people who can't come and pick-up items up in person at the curbside service. So really, library staff have gone above and beyond and it was stressful at first. It was stressful for us at Shortgrass. I mean the first few weeks, nobody knew what was really the right thing to do and we were making stuff up as we go as was everyone else. Then we sort of saw their groove and we figured out what is the science. We followed a science in every step that we took and we were able to provide the support to the member libraries that I think fit each stage and it just meant being incredibly flexible."
Member libraries were able to continue to purchase new items as the pandemic has continued on.
"We saw a real hunger from the public for new materials. The demand for new reading materials really remains high," said Maueroff.
Shortgrass still has drivers on the road making deliveries for most of the smaller libraries outside of Medicine Hat.
"It's basically the exact same delivery level that we had before because we needed to keep those materials flowing,"said Maueroff.
"The Shortgrass board allocated additional funds due to the E-book, because we saw a huge explosion of demand—everybody was reading all of sudden. So many more people had time to read or shifted their focus, that we just couldn't keep up with the demand."
Susan Andersen Library librarian Kathryn Van Dorp said all of the libraries are very innovative through the pandemic.
"We have dealt with the changes very quickly, try to adapt to keep the services going in our communities to the best of our abilities," said Van Dorp.
"Up until two weeks ago we were very busy doing the curbside services. A lot of people were still accessing that, so yeah behind the scenes, very busy. Some silver linings—yeah some services have come out of this that are quite positive—like even curbside pickup. We are continuing with that for those that would like to do that."
Van Dorp said the library is finding young families like that service because then they can just pick up their books and they don't have to take kids out of vehicles.
"It's a very quick learning curve," said Van Dorp.
"It's been a little difficult to keep the connection with our community members."
Van Dorp feels that libraries still need to advocate.
"I think libraries have always needed advocating," she said.
"It's an important part of the community—that's what a library board does—is advocate for the library. (It) keeps our funding in place and I guess just educating the governments, local and provincia, on how important we are in a community and especially during these times. I think we've really stood up to the challenge."
Bow Island's library is hoping to plan a summer reading program this summer and opening up the public computers soon.
Van Dorp says the foreseeable goal is to get the picnic table and bench set up out back on the patio so people can come and sit down.
Libraries reopened on March 1 at 15 per cent of its capacity.
Maueroff confirmed all the libraries have stayed operational and opened when they had the opportunity.
Member libraries that are on the current SuperNet internet connection will get a significant bandwidth upgrade in April.