The importance of having a farm safety plan
Posted on March 24, 2021 by 40 Mile Commentator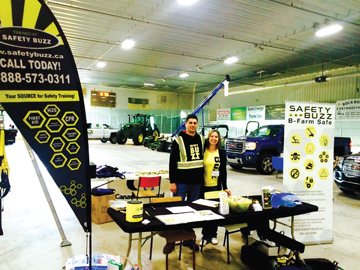 Safety Buzz owners Sheldon Olsen and Amy Zuk-Olsen
By Amy Zuk-Olsen,
owner of Dunmore's Safety Buzz Campus
Amy Zuk-Olsen, president and founder of Dunmore's F&S Safety Buzz, wanted to remind the farming community about safety as a part of the annual Agriculture Week last week .
Below are excerpts of a presentation she made at the annual ACCHI (Association of Canadian Custom Harvesters Inc.) convention in 2019 that she wanted to reiterate.
On average, 13 people are killed on Saskatchewan farms each year. Results show 75 per cent of these cases involve machinery such as grain trucks, semis, tractors and combines. In Alberta, based on 2017 injury claims, three in 100 workers were injured on the job. It is important to note when looking at these statistics that for every fatality, there are 600 near misses and 30,000 unsafe actions. This point alone is significant enough to reinforce to all business owners that it is absolutely necessary to have a comprehensive safety plan.
Most incidents occur in the farm yard and 14 per cent involve youth. Young workers are particularly at risk. This is because they think differently than more experienced employees. They tend to take risks and shortcuts, sometimes thinking they are invincible. They may be reluctant to ask questions and may not be aware of the hazards and risks in their jobs. It is the duty of every employer to protect their employees, and implementing farm safety initiatives will help greatly in this regard.
As a first step, it is important to recognize the hazards when it comes to farm safety. Working in
confined spaces, where climbing is involved, or working with intricate equipment can all contribute to accidents. Working directly with chemicals, electricity and noise can also be major factors. One also cannot avoid the fact that stress or fatigue can contribute to making errors that can result in a serious accident.
Any work accident will affect a business going forward and result in direct and indirect costs. Directly, lost time, sick pay, extra wages, production delays, loss of contracts, fines and legal costs could occur.
Indirectly, the business could suffer damage to their product, plant, buildings, tools and equipment.
Investigation time and an excess of insurance claims can affect your productivity, and last but not least, the reputation of your business can suffer.
F& S Safety Buzz has developed safety training solutions that are user-friendly, more manageable andwill help build a culture of safety in their workplace.
Zuk-Olsen outlined reasons why it is essential for businesses to implement these training solutions. She noted that when teams are trained to work safely,
business owners will have the comfort of knowing they have a plan in place. Direct benefits include the reduction in equipment damage, lower insurance premiums, potential WCB premium reductions, and protection from possible law suits, fines or even jail.
Both Saskatchewan and Alberta have Employment Standards in place to protect farm workers, however, there are certain groups that are not covered under these Acts. For example, the Alberta Employment Standards for Farms' rules do not apply to farm owners, family members of farm owners, non-employee relatives, friends and neighbours helping out, children doing chores and participating in recreational activities such as hunting on farmland. It is for this reason alone that ag employers need to be proactive and ensure that they provide a comprehensive farm safety training program for everyone who works on their farm.
As technology becomes more complex and as the world moves to a faster-paced society, it is important for businesses to follow suit by ensuring that their employees are properly trained and their businesses exemplify a safe working environment.
If you are a business owner, you may be interested in getting more information about F&;S Safety Buzz's programs on their website: fssafetybuzz.ca. There, you will find details on their training programs, services and leadership they can provide.