County council receives more information on rural internet services
Posted on March 30, 2021 by 40 Mile Commentator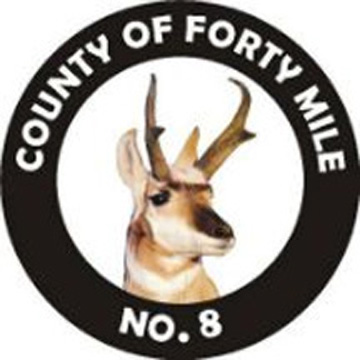 By Justin Seward
Commentator/Courier
Tango Network Inc. was back in the County of Forty Mile council chambers on March 24 to present more details on rural internet service possibilities.
"They had done some research on the next step of getting some access to some fiber somewhere up along Highway 3 and 879," said Steve Wikkerink, county reeve
"They had done a bit of a study on who might be interested in it along the route. Now they're going to go back and put some dollar figures to that and to see if we're going to do most of our work with underground cable or if it's going to involve some strategically placed towers or what's the best route to go. There's definitely some interest out there to hopefully gets some fiber access."
Wikkerink said the county would look at developing the infrastructure of that system, but the municipality would be looking for a service provider to operate the system.
Firefighter radios
Tango Network Inc. had a further discussion with council about volunteersfirefightes and their radios. " "Just had a little bit of frustration out on an emergency call here recently," said Wikkerink.
"The same gentleman that was working on this fiber stuff, I guess he's the same gentleman that our fire chief Dustin (McGarry) reaches out to help us keep our emergency radios up to date and hopefully using the best system for our County, being that we're spread out so wide."
The Tango Network Inc representative and McGarry came back into the meeting and explained a bit more about the county's radio system and some ideas on how the system can be improved.
McGarry did find some issues in the radios on the county's end.
Wikkerink said those radios since have been rectified.
McGarry will be looking into radios that are affordable and keep everyone safe.
"Some of it, when they went back and physically went through our vehicles, we found some wiring issues—probably somethings that had vibrated loose over time," said Wikkerink.
"Dustin suggested that there may be a bit of some training specifically to mounting radios and stuff into vehicles."
There is the possibility of placing a strategic tower at certain spot in the county, added Wikkerink.
Money will have to be added to budget to keep updating.
Rock dumping
A couple of councillors had brought up the issue of rocks being dumped in the road allowances, which is not allowed.
"That puts our summer time mowing operators at risk as well as our spray equipment," said Wikkerink.
"It's a safety thing, we don't want those rocks in our road allowances."
New county building
The contractor is working to get sub-contractors in line for the new county building. The hope is the equipment will be starting to move onsite at the end of April.
Wikkerink said it's looking like a May 1 start for the 13-month project.
Irrigation water
Engineers provided the county with numbers to take irrigation water to Winnifred.
"Those first numbers they came back with (were) not reasonable for what we were looking for, "said Wikkerink.
"We talked about it and we stressed the fact to council that we're putting in an irrigation line to take irrigation water to Winnifred. And there is no reason that irrigation line shouldn't have to be any different than any irrigation line that is buried all over the country for irrigation. It doesn't need to be some special pipe; it doesn't need to be fused together—it's just an irrigation line."
New numbers were provided to the county to where the pipe will be located.
But now the municipality has to put it back out so there is the opportunity for the interested company to see what it looks like.
Wikkerink said unfortunately it will be put off for another two weeks before council can make that decision.
"I'm disappointed that we couldn't go ahead and do it," he said.
"It's just a small project, it's an irrigation line, let's just get it done. But I also understand that in the municipal world, you have a process we have to follow, and that's we have to do."