PRPS teams up with Medicine Hat and District Food Bank for hygiene initiative
Posted on March 30, 2021 by 40 Mile Commentator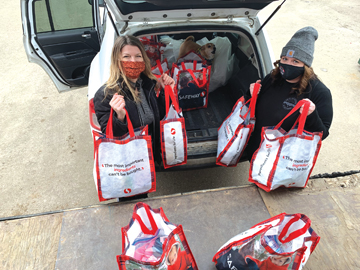 Carol Carolson and Melissa Mullis delivering bags recently/
By Justin Seward
Commentator/Courier
Prairie Rose Public Schools teamed up with Medicine Hat and District Food Bank earlier this month to provide bags of more readily available items to its schools.
The Food Bank came through with item bags that include deodorant, toothbrushes and toothpaste in addition to feminine hygiene products.
"We've always had a good relationship with the food bank and you probably recall from last year, we did a lot of work through our nutrition program with our families—specifically from March to June," said Carol Carlson, PRPS's coordinator of student services.
"But since then, we continue to have a good relationship and they have weekly lists that go out to the schools and schools can order food products or hygiene products or whatever the schools need on a weekly basis."
The FSLWs (Family Student Liaison Workers) will be responsible for the distribution and ordering of products as schools put in an order.
"The need comes from when we have kids that are at school, often what they need for supplies may be at home or not available," said Carlson.
"We just make sure we have a nice assortment of things available at schools."
Carlson added, "We want to make sure in these times kids can easily access them."
"Even if the Family School Liaison Worker is not at school, they'll be just available in the bathrooms."
Bags arrived at schools a couple of weeks ago.
"The reason that it is such a natural partnership with all the school districts is because we have a bigger buying power in the community and we're able to buy things at a lower cost in bulk," said Melissa Mullis, the Food Bank's director of community relations.
"That's why they came to saying they wanted to see if we could take on this program so that we could provide those items to the kids at school."
Mullis says about 1,000 items have been purchased.
Greg's Remedy's RX donated 1,000 deodorants.
The products will be distributed to both Medicine Hat school districts as well.
The Food Bank provides feminine hygiene products through an annual drive.