McKnight commits to Avs
Posted on April 6, 2021 by 40 Mile Commentator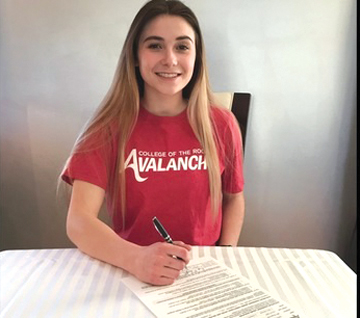 By Justin Seward
Commnentator/Courier
Walsh's Krista McKnight has committed to Cranbrook's College of the Rockies Avalanche women's volleyball program starting next season after signing her letter of intent back on March 15.
"I committed to that school because it offers a very good program not only sports wise, but also education," said the Grade 12 Eagle Butte High School student.
She will be taking Kinesiology starting next fall.
McKnight says she had been in talks with the Avalanche for four months.
"The other aspect was also that it's a ways a way from where I live now, but not too far away," she said.
"It's also a smaller college, so it'll offer a lot of individual growth because you'll be able to have attention from teachers and coaches individually."
The Avalanche women's volleyball brass like how McKnight is a team player on and off the court and that she brings that competitive nature.
"Whatever position I'm put into, I'll do my best," said McKnight.
She credits her coaches at both Eagle Butte and SEAVC (South East Alberta Volleyball Club) for helping her get to the college level.
"My coaches were very big pushes for me and they always told me that they felt like I could play at the collegiate level," said McKnight.
"They really tried to push me in that direction. I just worked really hard this year to perfect my skills, hoping I'd be able to play somewhere."
She said her time as a Talon was very team oriented, but also allowed for individual success.
McKnight is a multi-sport athlete having also participated in cross country, track and field, basketball on top of playing volleyball since Grade 6.