Peters named Edwin Parr Teacher Award nominee for Prairie Rose Public Schools
Posted on April 6, 2021 by 40 Mile Commentator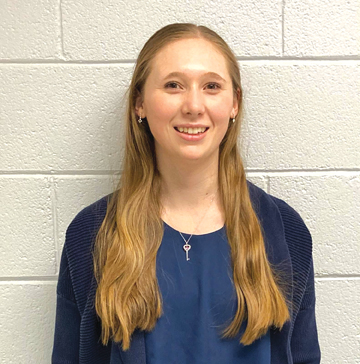 Brittney Peters
By Justin Seward
Commentator/Courier
Burdett School teacher Brittney Peters has been chosen as Prairie Rose Public Schools' Edwin Parr Teacher Award nominee.
The Alberta School Boards Association (ASBA) recognizes a first-year teacher from each of the province's six zones for their outstanding efforts.
"I feel honoured," said Peters.
"I am excited, especially given this year— like with COVID—everything has been kind of up and about. But it's really been a pleasure—like I can't believe I was nominated—I feel very special, lucky and fortunate."
She said her first year at Burdett has been "a whirlwind of emotions, joy and excitement."
"I think back to day one, we were told to make it kind of exciting for the kids given that they hadn't been in school for a very long time," said Peters.
"I was also kind of anxious because it was also my first year in my first classroom. Of course, what does one do when ones nervous and trying to make it fun? They come in a panda suit. I was rocking around, and the kids were hyped about being here, I was hyped about being here. It was an exciting time."
Peters has been thankful for technology during the COVID-19 pandemic because she believes kids still need that one-on-one personal time where the teacher is helping them.
"Yes, there is COVID, but we've become very strategic in our ways of teaching and I am lucky," said Peters.
"Honestly, I am lucky that I have a school that has these resources readily available for me to use."
What she likes most about Burdett School is the staff and students.
"The staff just welcomed me with open arms and especially administration," she said.
"I loved how readily available they are when I need them. I love the students, their energy, their excitement towards learning and when they finally get something that they have been working on for so long and it finally clicks. That smile, it just warms my heart."
Principal Cheryl Rebmann nominated Peters.
"We're very lucky and privileged to have Brittney," said Rebmann.
"She's just a real go-getter. She is all about developing relationships, and that's right from staff, students to parents. She's made really great connections. She believes in collaborating and working together. We're just very blessed to have her here at Burdett."
Peters grew up a Mennonite, where normally those students drop out around Grade 6 or 7. She stuck it out and attended Eagle Butte High School thanks to a lady (who Peters could not name) in her community who she house cleaned for.
"She would just question what my future was and what that would look like for me and she suggested I go on a tour in the nearest high school, which was Eagle Butte at the time," said Peters.
"I did it to please her—mostly because I wanted her to stop talking about it—and I ended up going to the high school. It just made me realize that the dreams I had as a kid were dreams that I could pursue."
She did her post-secondary at Medicine Hat College.
The Zone 6 winner, which includes PRPS, will be announced at a banquet on May 19 and each of the zone winners will be recognized at the ASBA annual general meeting in November.