Redcliff smokestacks will soon be replaced
Posted on April 6, 2021 by 40 Mile Commentator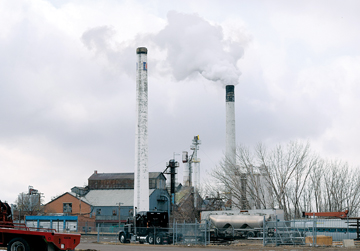 Smokestacks at the Certainteed inulsation plant in Redcliff could be replaced in the near future, according to an application to alter the facility filed with the Alberta Ministry of Environment and Parks. -- NEWS PHOTO COLLIN GALLANT, amrch 25, 2021
By Collin Gallant
Southern Alberta Newspapers
The smokestacks that have long stood over Redcliff may soon be replaced, according to new environmental approvals sought by Certainteed Insulation.
A public consultation feedback period ended March 26 on amendments to an existing approval to replace the existing main brick stack that stands 53 metres tall, or 175 feet, at the site in the west end of the town.
It would be replaced by a 30-metre (98-feet) stack, according to a public notice posted by the Ministry of Environment and Parks.
Calls to the company seeking more details on March 26 were not returned.
The round stacks in question are not the original to the site, which operated as Dominion Glass until the facility closed in 1989.
It was subsequently sold to Ottawa Fibre and refitted to produce fibreglass insulation.
In 2009 the facility was acquired by Certainteed – a division of global construction material manufacturer St. Gobain – when it bought the national network of plants of Ottawa Fibre Income and operating trust.