Alberta communities encouraged to recognize volunteers innovatively
Posted on April 21, 2021 by 40 Mile Commentator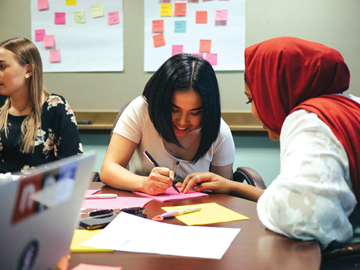 Photo submitted by Volunteer Alberta Volunteer Alberta offers a Youth @ Table program that engages youth volunteers with non-profit board governance.
By Justin Seward
Commentator/Courier
April 18-24 is National Volunteer Week and communities are encouraged to find innovative ways to celebrate its volunteers amid the COVID-19 pandemic.
Communities are adapting this year by celebrating through online events and public displays such as music therapy gardens and gift baskets deliveries to volunteers' homes to name a few.
"Now more than ever we need to recognize the contribution volunteers make to our communities," said Karen Link, Volunteer Alberta's executive director.
"From visiting with our neighbours, to helping at food banks, to picking up groceries and dropping off supplies—the power of many volunteers across Alberta has been transformational during the pandemic."
This year's theme is "The Value of One, The Power of Many" and reflects on the awe-inspiring acts of kindness my millions of individuals and magic that happens when everyone works together towards a common purpose.
"We encourage Canadians to join us on social media throughout the week – to share their stories, to thank their volunteers, to bring as many people into this conversation as possible – to tell us what "The Value of One, The Power of Many"means to them. I have also seen some really creative celebration ideas coming out of the communities and volunteer centres in Alberta," said Alyson Olsheski, communications and membership manager for Volunteer Canada.
The 40-Mile Regional FCSS thinks this year's theme recongizes individuals and collective support for friends, families, neighbours and strangers.
"We continue to encourage and support organizations and people that require volunteers or wish to volunteer," said Corrina Roth-Beacome, 40-Mile Regional FCSS director.
"Volunteering in your community is a way to help it grow, stay strong and offer quality programs and services. It allows you to meet new people and build great supportive networks. Leveraging volunteer hours for grant funding opportunities allows for new infrastructure, programs, and services. Volunteerism keeps communities together."
COVID-19 has changed the way organizations have offered volunteer support.
"Organizations have become very resourceful and creative in offering volunteer support to ensure the residents in the Forty Mile Region have quality activities and programs and an amazing community to call home," said Roth-Beacome .
"Whether activities have moved to online, socially distanced or continue safely, face to face, volunteers remain the heart of our community."
Medicine Hat-Cardston-Warner MP Glen Motz said volunteers are the backbone of our communities.
"It is impossible to put a value on the importance of volunteerism and the difference that volunteers make every day," he said.
"… Over the past year we have learned to live our lives differently, and that includes how we volunteer. But more than ever, volunteers are making an impact. I want to personally take this opportunity to thank the volunteers of the constituency of Medicine Hat-Cardston-Warner for your faithfulness, dedication and adaptability in donating your time and abilities to make our communities a better place to live."
More information on National Volunteer Week can be found at http://www.volunteer.ca.