Badlands Cre8tions seeing more great progress this year
Posted on April 21, 2021 by 40 Mile Commentator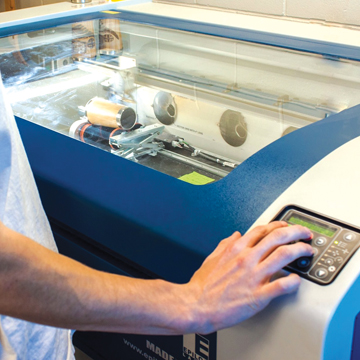 An example of the class' laser engraver capablities.
By Justin Seward
Commentator/Courier
The Eagle Butte High School Back to Business class gave an update on what has been happening with their Badlands Cre8tions store over the last year to the Prairie Rose Public Schools board of trustees on April 13.
The student-run store that officially opened in 2019 focused on developing entrepreneur skills and provided participants with hands-on learning opportunities in a real business.
The program initially was to take the students' work from all over PRPS— including from shop class and art class and selling it in the store.
Teacher Jimi Ricci says the program has since evolved from that.
Donna Kirchner looks after the book keeping for the program and helps the students with the financials.
Ali Mullin, a PRPS support staff member, assists the students with the designing process of the products.
"Basically, she helps them to focus their talents towards good designs," said Ricci.
"She's also a technological whiz in that she knows the ins and outs of our laser engraver. She's instrumental in making our Badlands Cre8tions website functional and easy to use."
Ricci was asked a year ago if he wanted to come on board in this program and took over for Jason Duchscherer, who moved to Oyen Public School as principal.
"I was approached because I do have some business experience," said Ricci.
"Some of you know that I run a number of side businesses throughout the years. Most recently, you might remember seeing Ricci's Pizza at the Farmer's Market—that was a little endeavour that I did with my family as an effort to earn some money for a trip to Italy. But I've also run irrigation in the summer time."
Ricci said the program had picked up some momentum before COVID struck.
"There were all kinds of orders coming in—some big, some small," said Ricci.
"They (the students) were doing medals, they were doing all kinds of custom jobs for people and of course just selling the mugs and our other wares. COVID kind of took a big bite out of that, local businesses simply don't have the money to spend on business. At first, the business part of me was disappointed because I'm thinking we're running a business, the focus here is to make money, and I keep having to correct myself, and say 'Yes, it's important that this business makes money so we can pay some of our bills.' But the critical thing is the student gain that experience of running a business and making sure that they're running a sustainable business."
Badlands Cre8tions has not been experiencing the large orders that were anticipated to come last spring.
Ricci feels the program "has been fortunate" that the program has been able to get many smaller orders.
"I say fortunate because it didn't take me long to realize that every order forces the students to go through the process, the contact with the customer, the product verification, the proofs (and) the production," he said.
The Back to Business class' main focus this year was to liquidate existing stock and tried a number of different things including a Christmas sale, Black Friday sales and implemented student discounts.
Discussions revolved around what else can be used for branding, and products and services.
"A lot of the decisions that happen in this class are student driven and teacher guided," said Ricci.
"One of our brainstorm sessions last year had to do with our COVID situation. We said, 'Not that we want to capitalize on something unfortunate, but what need can we fill?'"
Students realized out of those discussions that everyone in PRPS and in even into Medicine Hat schools are getting chrome books.
"We thought that we might pursue personalized chrome book cases," he said.
"So that's one of the things that we pursued. We may have missed the boat by the time we got them, it was a little bit late. But we are well stocked for this September for when school starts and when students get new chrome books."
The program also received new equipment to make items such as glossy posters to promote school events.
A plan in the works is to get into custom clothing.
Students are currently seeking out services that the class currently could provide.
"For example, right now we're looking at custom pins," he said.
Custom socks are also an idea on the table, while there have been requests for swag bags and medals carved into a "T" to represent the Talons for the school's 25th anniversary next year.
Six teams are involved in the business including sales, production, customer service, creative financial and marketing.
"All these students are rotating through these particular roles," he said.
The class is partnered with the Medicine Hat College and meets with Larae Pierson, who gives the students ideas to think about and ponder in their business.
MHC has also lined up local entrepreneurs for "Work Week Wednesday" discussions on leadership, mentoring and career choices.