Blessing of the Bikes returns May 2
Posted on April 21, 2021 by 40 Mile Commentator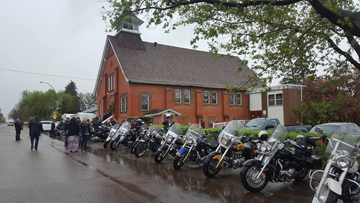 Photo contributed by Heather McCaig The Blessing of the Bikes normally has a church service followed by a blessing of the riders bikes. In 2021, the event will be livestremed followed by a drive-thru format on May 2.
By Justin Seward
Commentator/Courier
The annual Blessing of the Bikes will be making a return to Redcliff's Fifth Avenue United Church in 2021 on May 2 with a change to the proceedings.
This year's event will be livestreamed on http://www.facebook.com/fifthavemem and on co-organizer Heather McCaig's Facebook page beginning at 11 a.m.
Bikers can ride in front of the church starting at 11:30 a.m.
A blessing of the bikes will be done following the service in a drive-thru format.
"We'll ask the riders to come down Second Street and they'll pull up single file in front of the minister, have their blessings, and then ride off down the block," said McCaig.
Donations will be accepted for the plaque of the names of the fallen riders, the upkeep of the stained-glassed window and the honorarium for the minister.
"We definitely believe that riders play a large part in charity and community in Medicine Hat and we want to do everything to keep them safe," said McCaig.
"This is just one little piece of that awareness and a little extra divine intervention from the powers that beat to help other riders as they go about their season. We want to continue that and into the future."
Any questions can be directed to McCaig at (403) 528-0562.
A much smaller event was held away from the church in front of Rev. David Pollard's house in 2020.
The event normally would see motorcyclists sit in a church service, followed by a blessing of their bikes and doing a ride tour together to kick off the season.