Coyote Creek Riding Arena to implement new programs for further riding development
Posted on April 21, 2021 by 40 Mile Commentator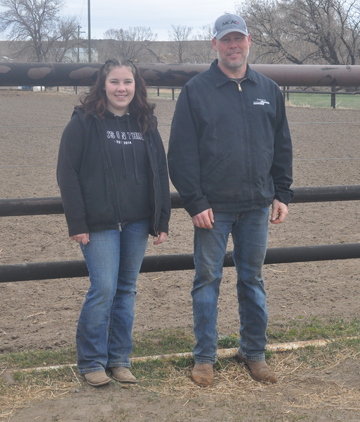 Coyote Creek arena owners Holly Padfield (left) father Tim Padfield as well Jodene and Ava are looking forward to building on existing equine programs and creating new ones for their equine clients.
By Justin Seward
Commentator/Courier
The Padfield family officially opened the newly named Coyote Creek Riding Arena on April 12.
The family purchased the 5227B Township Road 120 property from Forsyth Ranch Arena.
Tim, Jodene, Ava and Holly Padfield will oversee the operations of the arena with the help of various extended family members.
Holly is a part of the management department of the business and says she was looking to get to the next step in her life after graduating with a Diploma in Administrative Office Management this year.
"It was kind of a really great opportunity that with the support of my dad I was able to do and bringing horses into our lives has always been a passion of ours," said Holly.
"So, making a dream come true and taking care of the horses and everything like this—it's just an amazing opportunity."
Coyote Creek Riding Arena plans to continue on with programs that Forsyth Ranch had in place including the speech therapy and hippotherapy program as well the Prairie Rose Public Schools equine programs from Irvine to the facility and youth sorting teams.
The Arena will be an open discipline facility and offer horse boarding, has certified trainers and will cater to public drop-in riding, event bookings, 4-H clubs, clinics to name a few.
"This facility provides an opportunity through the winter time to exercise the horses (and) keep their skills for when they are needed in the spring and summer time," said Tim.
"Some of the trainers that we work with are interested in bringing in some mental health programs for adults—not just the children's speech therapy. We're looking at some of that, as well as equine yoga type routines (for the rider to build core strength), but it's done in the atmosphere with a horse."
The speech therapy program is available on Monday and Wednesday afternoons, team sorting runs until the end of the month for youth and the PRPS equine program will run until end of the school year.
"I think Coyote Creek's focus is with the programs is just bringing the kids in (and being ) involved," said Holly.
"From me growing up around it, it's really made me who I am and being able to express who I am and my interests and my love for horses. It's not for everyone, but it's always worth a try always having a facility here. It's definitely having the kid's atmosphere is definitely a big dream and just honestly the general care of horses."
Programs are only allowed to run in groups of 10 and boarders can come and exercise their horses and drop in is limited until some restrictions are lifted.
There will be a two-month break in the summer and the hope is to implement the adult team sorting and yoga in the fall along with the regular programming.
More information can be found at coyotecreekarena.com and on Facebook at Coyote Creek Riding Arena Ltd.