Drone Games coming to Eagle Butte High School
Posted on April 27, 2021 by 40 Mile Commentator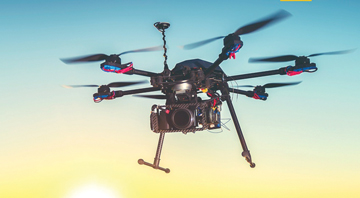 Drone Games.ca screenshot photo The Drone Games will be coming to Eagle Butte High School May 15.
By Justin Seward
Commentator/Courier
The Dave Rozdeba South Alberta Flight Academy has teamed up with Super T Aviation, QinetiQ and Medicine Hat College to bring Drone Games to Eagle Butte High School on May 15.
Flight Academy students acquired drones/UAV advanced pilot certification in conjunction with Canadian Aviation Regulations. Industry experts will be in attendance throughout the course.
The event will be opened to Flight Academy students, local-area school division students in Grades 9-12 and the public.
Participants will have opportunity to fly drones that are less than 250 grams.
The Flight Academy was looking to add this component their programming and the drone opportunity seemingly was a good fit.
"It made sense to explore drones because obviously that is an industry that is experiencing growth and drones are obviously more than just toys, they're tools," said Reagan Weeks, PRPS' assistant superintendent.
"We're studying the ways in which drones can be used in agriculture and various industries and as the Flight Academy students are acquiring this knowledge we thought 'Well what a nice opportunity to create something fun?' and from that, came the idea of the Drone Games — sort of like X-Games style where students will have to compete in a variety of challenges and demonstrate their ability to fly and operate the microdrone."
There will be seven challenges that the participants will have to navigate through including a traversal precision challenge, short stop challenge, heat challenge, location challenge, over under challenge, agility challenge and obstacle challenge.
Each challenge will be scored by experts and local dignitaries.
Flight Academy students can score up to 70 points.
"It helps our students understand they can take the skills that they've learned and translate them into the work place and also helps them explore other various future job prospects and opportunities that they may wish to consider going forward," said Weeks.
"It also gives them a chance to have some fun. We know that academics are obviously really important in school. But we also want students to experience some wonder, awe and some joy."
Registration is open until May 7 at http://www.dronegames.ca.
Cost is $20 and to be paid in cash or cheque on the day of and late entries will be charged $30.
Drone Games will begin at 10 a.m. on May 15 and participants are encouraged to be at Eagle Butte High School by 9:30 a.m.
Lunch will be provided and COVID protocols will be in place.
Participants can email Davina Thuroo at davinathuroo@prrd8.ca for more information.