Apple Drugs adapting well to COVID-19 vaccination process
Posted on May 5, 2021 by 40 Mile Commentator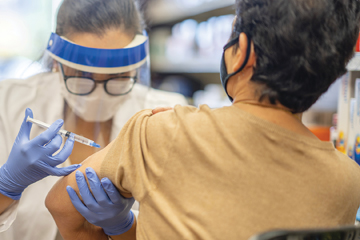 By Justin Seward
Commentator/Courier
Bow Island Apple Drugs have been administering the COVID-19 vaccinations for six weeks.
The drug store only received 400 doses of the Moderna vaccine and has been out of vaccine supply for two weeks and are awaiting on more doses.
"It just increases our workload a little bit because we're so busy in the dispensary as it is," said Taria Gouw, co-owner of Bow Island Apple Drugs.
"Then you add doing 30 shots a day sort of thing on to that work load. But the staff has been amazing, I have another pharmacist here helping me, and so it's been really good. We just wish we could get more vaccines so we can keep going."
Gouw said the community has been thankful that Apple Drugs was chosen as  a pharmacy for vaccine shots.
"Our computer system allows to print out demographics," she said.
" I've been able to go as the age rolls out on each kind of phase. I've been able to print out a list and kind of go ahead and call ahead to try to decrease the amount of phone calling we're getting at the pharmacy."
Apple Drugs has also been fielding calls from Lethbridge, Taber, Medicine Hat, Seven Persons and as far as Calgary for vaccine shots.
Gouw says about 75 per cent of the Forty Mile population is interested in getting the vaccinations.
She has sent letters to Alberta Health Services requesting 100 vaccines a week, which would work out to 20 vaccine shots a day.
"I was able to pre-order 100 doses as of Monday (April 26), with the hope I will have it for Monday (May 3)," she said.