Firefighters now eligible for vaccination
Posted on May 5, 2021 by 40 Mile Commentator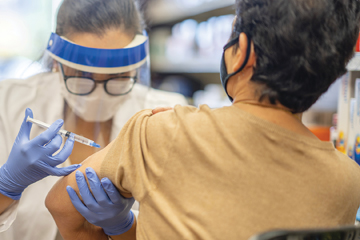 By Justin Seward
Commentator/Courier
After being left out of the first responders' category for the COVID-19 vaccine since December, Alberta firefighters can now book their appointment starting on April 30.
It was announced on April 29 by the Government of Alberta that in recognition of the finishing of the phase 2 roll out, that firefighters can now start booking their vaccine shot at participating pharmacies and  Alberta Health Service clinics.
"The Alberta Association of Fire Chiefs would like to thank Premier Jason Kenney, Minister of Health Tyler Shandro, cabinet, and members of the Alberta Public Service for their initiative and understanding of the importance of firefighter's role as first responders," said Randy Schroeder, AFCA president 
"This move is seen as a critical acknowledgement by the government, of the importance of the Fire Service, whether delivered by volunteer or career firefighters. Many communities see fire trucks and crews responding to medical emergencies on a daily basis. As with other first responders, the vaccinations will protect the fire fighters, the crews that currently must self-isolate potentially leaving the communities with less protection, and the citizens that they come into daily contact with."
This announcement came after months of no dialogue between the AFCA and the province. 
Schroeder spoke days before the annoucement about the impact of not being on the priority list in an interview  the Commentator.
Schroeder  said he would have like to have seen the vaccine roll out a lot earlier.
"We wanted to see firefighters in the same cue as paramedics back in December," he said.
"The bottom line is that most fire departments across the province, just through the services that they provide on behalf of the municipalities and providing in essence the same service and are at the same calls that paramedics are attending, we're attending through the capacity of medical first response agencies."
Most of the community fire halls, fortunately, have been able to avoid COVID outbreaks within their fire services.
"We respond every day with appropriate PPE(personal protective equipment) and services haven't stopped responding, they won't stop responding," said Schroeder.
"There's a need within the community. The difficulty lies with if there's an outbreak, the real urgency comes as what does the community do. And there are fire departments that have had to deal with staffing issues as a result of outbreaks within their stations."
AFCA has not seen any station closures to this point.
Schroeder initially believed this was "a miss" on the government's behalf.
"We've been advocating since day one that this has been an intolerable risk to communities," he said.
"If a member gets sick or cannot respond due to COVID-19, the whole hall may be forced to quarantine," said Dustin McGarry, the County of Forty Mile's now former fire chief as of April 30.
"This leaves a massive gap in service which becomes even more considerable due to the large landmass that each volunteer fire district covers within the County.  Lack of vaccination availability to the fire service has left many areas vulnerable or even unavailable."
Alberta Health Services recognizes that firefighters would benefit from receiving vaccine and want to offer the vaccine as soon as possible. 
"Due to the limited vaccine supply that is available in Alberta, we continue to target those who are most at risk of severe outcomes, and those who work directly with them," said Tom McMillan, AHS' assistant director of communications.
Paramedics who provide direct care, which includes emergency responders were made eligible in Phase 1, while the remaining were eligible in phase 2C.
All Albertans, regardless of occupation, who are 40 and older or who have eligible underlying conditions are now eligible for the vaccine. Right now, more than 2.3 million Albertans are eligible to get the vaccine.
"We have the widest eligibility criteria in Canada," said McMillan.