Kurtzweg receives $80,000 Schulich Leader Scholarship
Posted on May 5, 2021 by 40 Mile Commentator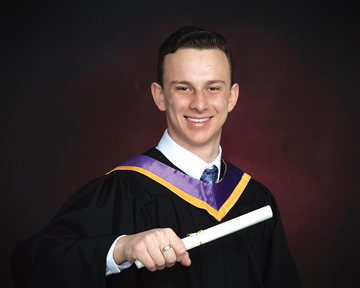 Jordan Kurtzweg.
By Justin Seward
Commentator/Courier
Foremost School Grade 12 student Jordan Kurtzweg received the big  financial boost he may have been looking for in the form of  being a recipient of an $80,000 Schulich Leader Scholarship award.
Kurtzweg is one of 100 students across Canada to receive this scholarship who have chosen to pursue a career in the STEM (Science, Technology, Engineering and Mathematics) program and will use the $80,000 over the next four years in a science degree, majoring in physics, at the University of Alberta.
"When I found out that I had been awarded a Schulich Leader Scholarship at the University of Alberta, I was completely overjoyed," said Kurtzweg.
"It is a huge honuor to have been nominated by my school and to have been selected out of 300,000 high school candidates. The U of A called me to let me know that I had been offered the award."
The scholarship will cover all of Kurtzweg's expenses and allow him to focus on his education.
"I am looking forward to meeting the other Schulich Leaders and I'm very excited to move on to the next stage of life and further education—I love learning," said Kurtzweg.
While he said it's hard to know what the future might hold, Kurtzweg thinks he would enjoy being a part of a company such as SpaceX.
"I look forward to seeing where my pursuit of science might lead," he said.
Kurtzweg made sure to include the Foremost School teachers in on the announcement.
"Our entire staff is so excited for Jordan and his success in securing finances to put towards his education," said Dana Marshall, Foremost School's vice principal and Kurtzweg's teacher.
"The day after he found out he was selected by the University of Alberta to receive this scholarship, he brought all the teachers into a classroom before school started and acknowledged all of us for the work that we have put into his education. Not many students out there would have done that."
Kurtzweg's parents, Curtis and Terri, could not be any prouder of their son for what he had accomplished up to this point and heading to U of A.
"We are absolutely thrilled Jordan has this wonderful scholarship opportunity," said his parents in a conjoint statement.
"We are so very grateful to the Schulich Foundation and the U of A.  It was just completely surreal when we heard the news.  Jordan has always loved learning & is fortunate to have had teachers that encouraged & challenged him. We have also felt the support of the community in the various endeavours that Jordan has pursued as he's grown up. As a family, we are so very proud of him."