Rotary clubs begin work on Centennial Park project
Posted on May 5, 2021 by 40 Mile Commentator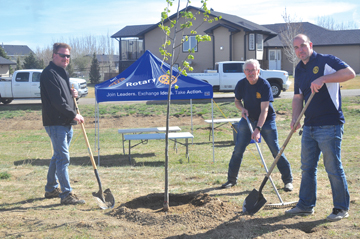 Commentator/Courier Photo by Justin Seward Cypress County Reeve Dan Hamilton (left-right), Rotary Club of Medicine Hat member Gail Halderman and Rotary Ignite president Chris Perret were on hand to kickstart the planting of the 100 trees project at the new Rotary Centennial Park in Dunmore on April 30.
By Justin Seward
Commentator/Courier
Rotary Ignite and the Rotary Club of Medicine Hat started work on its new  Centennial Park project in Dunmore with the planting of 100 trees on Friday and Saturday.
The planting of 100 trees is meant to be something to celebrate 100 years of rotary in Medicine Hat.
"We want to plant 100 of them mirroring the Centennial of Rotary and see the project growing from there," said Chris Perret, Rotary Ignite  president.
Perret said the plan is create a natural park with native grasses and as many kinds of native species of trees as appropriate that are hardy for this climate.
There will be drip irrigation that will allow the trees to last longer and maintain the native grass environment.
"With the tree planting project, we really wanted to just put money into the community and say, 'Hey, here's your park," said Perret.
"We wanted to invite the community and Rotary members to come out and actually plant the trees."
Grassroots Landscaping and Irrigation will on site to dig the holes, while the  community, Dunmore Community Association and Rotary Club groups will be able to come out and do some of the backfilling and fertilizing.
Rotary Ignite launched a buy-a-tree campaign where someone can purchase a tree in theirs or someone special's name.
There is also the option to buy a combination of a park bench or garbage can and a business sponsorship.
"Make it more than just a park (and) make it a community piece," said Perret.
Park benches, lighting installation, the building of a trail that will connect into the current path in Dunmore, paving of the parking lot and the removal a mail box off the road to address a safety concern will come in future phases.
The park is going to be fully operational by the summer.
It was three years ago the Rotary Club of Medicine Hat started working with Cypress County on the park project.
"We approached the County," he said.
" They said 'Yep, we love it.' Then we partnered up with the Dunmore Community Association and gained a whole bunch of energy from that group."
County Reeve Dan Hamilton remembers the project coming together by accident in a good way. 
"I was at the Dunmore Community Association meeting one night and people were talking about getting some trees in this one area because when the winds come up, they just come across that EagleRidge and dust blew across and everything," said Hamilton.
"Then I happened to be in council chambers the next day and ran into  Chris and he was saying he needed a playground to put 100 trees in for their Centennial and it took a couple years, but that's how it all came about, and all is finally being put together."
Hamilton is the Dunmore representative on council and thinks it's important the Rotary is doing projects outside of Medicine Hat.
"I think it's great for the Rotary that they're in our community too  and they're spreading out, and it's not just Medicine Hat," said Hamilton.
"We have a really good group of people in Dunmore. They really got on board with the Dunmore Community Association—everybody is trying to move forward with stuff and pretty aggressive. I think this just brings everybody together."
The park will be located north of Eagle Butte High School.
Rotary Ignite is the newest rotary club in the city.
"It's meant to be rotary for the next generation," said Perret.
"So really trying to extract the generation 'X', generation 'Y', kind of  a younger generation, (to  put) incentive into the community and do community projects."