Local students to participate in virtual Canada-Wide Science Fair
Posted on May 11, 2021 by 40 Mile Commentator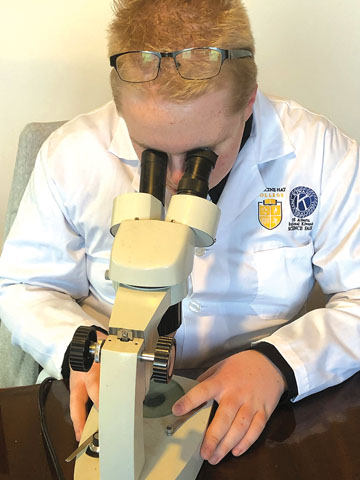 Photo submitted Ayden Rooks looking through the microscope.
By Justin Seward
Commentator/Courier
Students from the County of Forty Mile will be participating in the virtual Canada-Wide Science Fair next week after winning their categories at the annual regional Kiwanis Southeast Alberta Regional Science Fair last month.
The CWSF is the Canada's largest annual youth science, technology, engineering and mathematics (STEM) event.
The event brings together top young scientists that were selected by 100 regional STEM fairs across the country.
Senator Gershaw Grade 10 student, Ayden Rooks, won the intermediate category at the Kiwanis Science Fair to earn a berth at the virtual event with his "Microplastics: Are They Killing Us?" science project.
"Being picked for the Canada-Wide Science Fair has been a dream of mine since I had first started doing science fair in Grade 4," said Rooks.
It was very exciting to be told that I was chosen to represent southeastern Alberta at the Canada-Wide Science Fair in 2021. I hope to do our community proud."
His project was about the prevalence of microplastics in Canadian water ways and if they could be discovered all over the country.
 "I obtained representative samples from throughout Canada – sources included, streams, lakes, rivers, and even underground sources," said Rooks.
" To my disbelief, I found that micro plastics can be found all over our country, even in the most remote parts!. I believe this is a problem that we as citizens of this beautiful country need to be aware of."
Rooks learned that there was microplastics in beauty products, personal care products, tires, and cleaning products.
 "These microplastics are entering our waterways, a vital source for our life and wellbeing.  We are ingesting them without even knowing it,"  said Rooks.
"To my knowledge there is no research on how these microplastics may be affecting us.  I am pretty sure though that they are not good for us, but to what extent."
He is looking forward to competing with his project at a National Level and forward to talking with world renown scientists that will be judging projects and to interact with fellow like-minded students.
Foremost School Grade 8 studenrt Britten Kurtzweg won the junior category with his "Feel the Heat-an Exploration of Energy Efficiency of Different Woods" project.
"I felt very honoured to be chosen as a representative from southern Alberta.  To be involved in a National competition is a rare opportunity and  the fact that I was picked was very exciting," said Kurtzweg, on winning a spot into the CWSF.
He was interested to see that when having a campfire which wood would be more energy efficient and wanted to learn about the different types of clean energy and compare the advantages and disadvantages.
"I made and used a calorimeter to measure the amount of energy released per kilogram from different types of wood such as Alder, red ash, white ash, maple and walnut. I discovered that wood is very inefficient and carbon releasing compared to other types of energy such as solar, wind, or nuclear," said Kurtzweg.
Although the CWSF will not be in person, he is looking forward to meeting other people in the science community virtually.
"These students, they are so enthusiastic and excited about the project they have done," said Patty Rooks, senior scientific consultant with Praxis Science Outreach Society.
"They've gone above and beyond expectations—we're so excited. Southeast Alberta has some of the brightest students."
The Canada-Wide  Science Fair goes virtually from May 17-21 in Ottawa.
There will be 500 finalists competing for medals, cash prizes, scholarships and exclusive opportunities in addition to scientific, social and cultural events.