MH Arena getting prepped to come down
Posted on May 11, 2021 by 40 Mile Commentator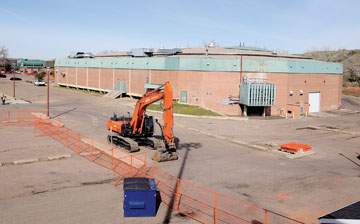 Crews and equipment arrived at the site of the Medicine Hat Arena on Thursday to begin taking up the parking lot to instal new utility service connection to the site, which is subject to a conditional sale to become a conodinium development. Reworking the services to the three acre parcel is part of sales conditions between the city and NewRock Developments. The deal has a closing date in July. -- News Photo Collin Gallant, May, 6, 2021
By Collin Gallant
Southern Alberta Newspapers
The ice is out, the asphalt is coming up and the Medicine Hat Arena may start coming down this year.
Machinery and fencing was delivered to the shuttered facility in the North River Flats as the city begins reworking utility lines in the area as part of a delayed conditional sale announced in 2019 and set to close this summer.
"We're still moving toward the closing date (of July 1)," said Cam Ens, president of NewRock Development, which is proposing to build a multi-family housing development on land occupied by the 50-year-old arena that was decommissioned in 2017.
This year the company launched a website for the "multi-storey" housing development, known as "Alto," promising unparalleled river valley views in the centre of the city.
That is now moving from concept to final design stages, according to Ens.
Current work is being done by the city to meet conditions of the sales agreement.
In 2019, council approved a tax abatement program that would help NewRock recover some cost of demolishing the structure, which contains hazardous materials.
That deal involves no sales price, but the company would be responsible for the demolition cost – estimated at $3 million – and the city would provide upgraded services worth $1.5 million, at no charge to the developer.
The tax abatement agreement, made possible under provincial legislation passed in 2018, would forego a total of $400,000 over several years if conditions, such as demolition and construction kickoff, are met.
The original terms of that agreement required the deal to close July 1, 2020, but was extended by 12 months last spring amidst economic uncertainty.
The city was also responsible for subdividing the land, creating separate titles for the YMCA location, which is leased by the city, and the berm that runs north of the Arena and is considered municipal infrastructure.
Eventually, about three acres considered in the sales would be turned over, while one acre would remain in the city's control to provide about 80 stalls of parking for the Downtown YMCA location.
Roadway would also remain directly behind the Medicine Hat Police Station, and Medicine Hat Curling Club, which sits on city-owned land leased to the club.
Nearby Athletic Park is also seeing substantial renovations this summer.
Crews from Contempora Construction were at the fenced-site this week. They will eventually replace the ticket booth, rebuild the shade canopy at the ball diamond and provide other improvements in the project budgeted to cost $3 million and be paid for largely with a grant.