PRPS's superintendent announces retirement
Posted on May 11, 2021 by 40 Mile Commentator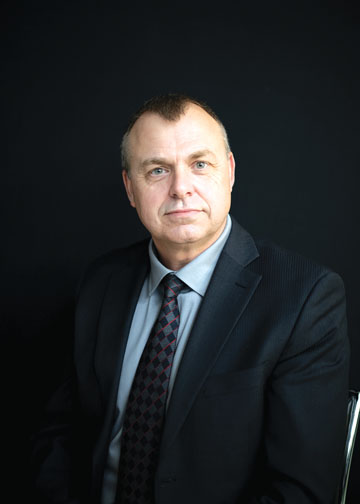 Photo Submitted PRPS superintendent Roger Clarke
By Commentator/Courier
After 31 years in the education sector, Prairie Rose Public Schools superintendent Roger Clarke has decided to retire, effective Nov. 1.
Clarke joined PRPS in August 2017 after spending a lengthy stint as a teacher and superintendent with the Fort Vermilion School Division.
Clarke had mixed emotions about his decision.
"The decision to retire presents many mixed emotions," says Clarke.
"The need to spend time with elderly parents is a significant driver and has played a major part in altering the life plan for my wife and I. Since moving to southern Alberta in 2017 I have thoroughly enjoyed the opportunity to be part of the Prairie Rose family. Prairie Rose staff are passionate about inspiring and teaching children. This is evident across the division and I am incredibly proud of what I see happening in our schools."
Clarke has felt fortunate to work with an exceptional staff over the last four years including the executive team, central office staff, school leaders and board of trustees.
"I know they will continue to explore and implement amazing learning opportunities for students and families in Prairie Rose," he said.
" We really only have the limits we as adults create.  Thank you all for joining me in being positive difference makers for kids."
Clarke's work has not gone unnoticed with the board of trustees.
"Over the past four years, Prairie Rose has been fortunate to learn and grow under Roger's guidance,"said Stuart Angle, PRPS' board chair.
"Roger understands the challenges, but also the benefits of living in rural Alberta and has led our board to explore new and exciting opportunities for children. The board thanks Roger for his passion and leadership excellence and we wish him all the best in his retirement."
Clarke has been instrumental in expanding PRPS programming over the last four years including the South Alberta Hockey Academy, the Dave Rozdeba Flight Academy, rodeo clubs and programs, agricultural and fine arts initiatives, a partnership with Medicine Hat Public Schools and Medicine Hat College with the Coulee Collegiate program and the Badlands Cre8tions entrepreneurial program to name a few.
"His wealth of experience as an educator and leader has made a significant impact on the quality of education and programming offered to Prairie Rose families over the past four years," as read in the PRPS press release.