Weiss signs with Pontiacs
Posted on May 11, 2021 by 40 Mile Commentator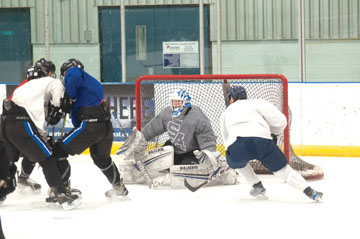 Bodee Weiss focuses on trying to track down the puck during a drill with his SAHA U18 Prep team last week at Medicine Hat's Family Leisure Centre. Weiss has signed on to play with the AJHL's Bonnyville Pontiacs starting next season.
By Justin Seward
Commentator/Courier
Bow Island native Bodee Weiss signed with the Alberta Junior Hockey League's Bonnyville Pontiacs starting next season.
The netminder currently plays for the South Alberta Hockey Academy's U18 Prep team and said the signing was "A bit of a confidence booster,  (and) just kind of emphasized making that next step and actually putting pen to paper, it's a real good feeling."
Weiss saw Bonnyville as a fit because of what the junior A club had offer in discussions with the coaches there.
"From what I've seen, they have an excellent facility there and I think it would be the right fit for me now and hopefully it is for the future too," said Weiss.
He had been in discussions with the Pontiacs since after the games he played against NAX  last fall just before the COVID-19 shutdown.
"One of their scouts was there at the game and we kind of chatted a bit and I guess we kind of  stayed in touch," he said.
"Their organization is so professional. It not really like a dumpy place; they take care of their stuff and they take care of their players."
The Pontiacs have told Weiss to perform at 100 per cent in practice and get the most out of the ice times.
His focus will be to work on getting quicker and faster hands.
Weiss will be at training camp at the end of August.
"Really my main goal is to play junior hockey," he said.
"Whether it's with Bonnyville or Portland (Winterhawks) since I'm listed with them and it's just kind of the next step in my career," he said.
The news was not surprising to SAHA head coach Brayden Desjardins.
"It's no surprise that Bodee is one of the guys that moved on," said Desjardins.
"He has a really strong mind, he is really smart, he thinks the games and sees the big picture. It's doesn't shock me he found a way to move on. I couldn't be more excited for him."
Desjardins thinks what got Weiss noticed is his attention to detail and his work ethic/
"He competes every day in practice," he said.
"He can't help but get better because of the way he trains and the way he competes. He doesn't just go through the emotions out there; he thinks about the way he wants to make saves and he executes them."