County council passed Mill Rate Bylaw
Posted on May 18, 2021 by 40 Mile Commentator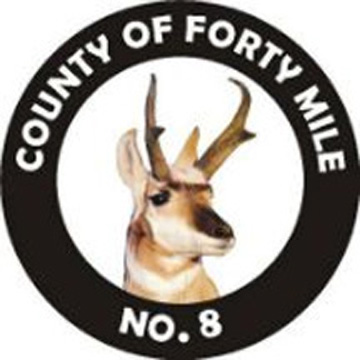 By Justin Seward
County of Forty Mile council passed  the Mill  Rate Bylaw at their May 12 meeting.
The rates will remain the same for the second consecutive year.
Rates are calculated based on per $1,000.
For general municipal, residential will be set at 5.97518, farmland (11.42518), non-residential (10.67518), linear (10.67518) and machinery and equipment (10.67518).
Alberta School Foundation Fund  and Separate Schools will remain the same for residential and farmland at a rate of 2.51320 while non residential and linear will stat the same at4.04920 and machinery and equipment will be at 0.00000.
"We've lost some money still in oil and gas," said Reeve Steve Wikkerink.
"And some other police funding that's downloaded on us. But with getting some money in this year from Capital Power for the first time, we thought we could sneak through here for another year or two hopefully at this mill rate level and then in 2023 we'll see another increase in windmill taxation. So hopefully we can hold everything steady until then."
Wikkerink said the County is one of the higher ones in the south when it comes to mill rates.
"We're trying not to put any extra burden on to our rate payers then we have to," said Wikkerink.
"We're trying not to drive up the mill rate for our businesses because we want to attract business to the county. Again, we're on the higher side compared to our neighbours."
Foremost indoor riding arena
The Foremost Ag Society made a presentation to council  on their proposed indoor riding arena project in Foremost.
The Ag Society members wanted to see what the county could contribute to the project.
"I think the County will do something for them," said Wikkerink.
"We think that this is a type of project that's going to serve a wide range of our community."
With the project serving a wide range of the community, some ideas include the county doing an in-kind deal where their equipment would be used to do site stripping and top soil moving.
"Council was very positive towards it," he said.
The Ag Society could also use the expense that it would have cost the county to do some jobs and apply the funds  towards grant applications and receive matching funds from the government.
Church land public hearing
Council approved a land use classification from Agriculture District to Public and Institution District after a public hearing was held.
The decision will allow the Old Colony Mennonite Community  to build a new church and hall  16 kilometres south of Bow Island on the oiled road.
The Old Colony Mennonite Community will have to go through the Municipal Planning Commission board for the next steps in the approval process.