HALO launches 50/50 Cash Draw fundraiser
Posted on May 18, 2021 by 40 Mile Commentator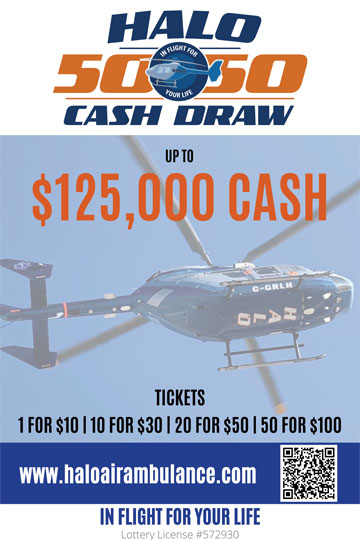 By Justin Seward
Commentatr/Courier
HALO Air Ambulance launched the HALO in Flight for Your Life 50/50 Cash Draw fundraiser on May 14.
The Cash Draw is HALO's second fundraiser of 2021 and was made possible after the success of the Cattle er' Cash Lottery —which sold out in 36 days.
HALO was forced to accelerate draw dates for the lottery and award the grand prize  of 20 Highline Angus Bred Heifers or $50,000 six months ahead of schedule.
"The HALO in Flight For your Life 50-50 Cash Draw is a direct response to our supporters who made Cattle er' Cash an overwhelming success," said Paul Carolan, HALO CEO.
The 50/50 draw is the latest fundraiser that complies with COVID-19 and is keeping HALO flying during the ongoing pandemic that almost grounded the helicopter for good last year.
The grand prize is up to $125,000, with the 50/50 covering five percent of HALO's annual operating budget at a full sell out.
There will be a guaranteed prize of $50,000 or a maximum payout $125,000 if there is a sell-out.
Proceeds go directly towards helicopter operations.
"These new initiatives for us were a necessary step," said Carolan.
"People love to support a good cause—this way they have incredible odds of winning and are supporting a cause they love if they don't, its literally win-win."
Tickets prices are one for $10, 10 for $30, 20 for $50 and 50 for $100 and can be purchased at  http://www.haloairambulance.com.