Premium Sausage to open second location in Medicine Hat
Posted on May 18, 2021 by 40 Mile Commentator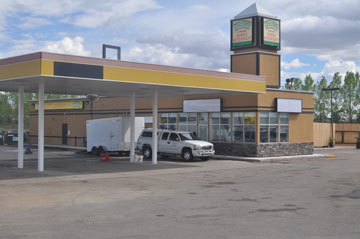 Premium Sausage will be opening up its second location in Medicine Hat next to Humpty's Family Restaurant in June.
By Justin Seward
Commentator/Courier
After years in the making, the decision was made recently that Seven Persons' Premium Sausage will open a second retail location in Medicine Hat in June.
The chosen site for the second retail store will be in the vacant gas station building next to Humpty's Family Restaurant at 1343 Trans Canada Way.
"We've (wanted) to do a retail outlet in Medicine Hat for years—specifically retail, not production," said Debbie Penner, co-owner of Premium Sausage with husband Mark.
"So, leaving everything the same as it is in Seven Persons and having a retail outlet for our Medicine Hat customers. Some of them feel that it's too far to come out and we're still amazed that we get new customers every day from Medicine Hat and this is a good way for us to help them out in short shopping convienience ."
The Penners were working with realtor Shauneen VanderHam for three years and something always came in the way such as  the timing, the space and location was not right and the price tag being too expensive.
"Location was a big deal," said Debbie.
"So here in January, somebody we knew suggested us to Spencer Lacey, who is now our landlord. Spencer had a really great spot. He came to us and with Shauneen and Spencer, we figured this out—they were so great, so helpful. This spot was ideal for us."
The focus is this will be a stop for Medicine Hat people to pick up their sausage or a quick deli stop for beef jerky and smokies.
"We'll be doing our most popular kinds of sausage—maybe eight to 10 kinds of sausage," she said.
"We'll be having some fresh cuts of meat. We'll have bacon and then a deli selection and we'll have a sausage-on-a-bun."
Phone orders can be picked up at the Medicine Hat store.
A soft opening will be on or around June 1. The grand opening is still yet to be determined.