ROC Modular to be a part of first ever CLT project in North America
Posted on May 18, 2021 by 40 Mile Commentator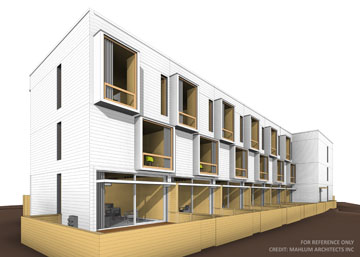 Photo submitted by Tony Isaac An example of a CLT modular unit .
By Justin Seward
Commentator/Courier
ow Island's ROC Modular has partnered with Green Canopy and Grocapitus to build Seattle's first modular townhouse residential project.
The project is located near downtown Seattle at North Beacon Hill and will be a seven-unit urban infill project, that will be constructed with large scale prefabricated cross-laminated timber (CLT) panels.
CLT is made from wood that has been stacked and glued together with a structural adhesive and gives the panels some strength and performance similar to that of concrete and steel—but with less of a carbon footprint.
A CLT home is a seismically sound, well-insulated home that features real wood walls, floors and ceilings and offer the connection of the natural environment to the home owners, as well as health and wellness benefits.
The benefit of this type of structure includes a low utility and maintenance cost for the homeowner.
ROC Modular will be pre manufacturing the modular units and deliver them to the project site for efficient and quick onsite delivery.
"ROC Modular, in its foundation, is a very innovative and forward-thinking company," said Tony Isaac, ROC Modular's CEO.
"And as such, we formed a relationship with a construction company in Seattle on an innovative and revolutionary building methodology for this type of construction with this cross-laminated timber. We had the right attitude and skill set and they chose us to do this pilot project.
"It's been a pretty long research and development phase and sales phases—we've been working on it for a long time—but we were able to close it."
Discussions commenced in March 2020 and closed at end of April with the announcement.
"Our management team has experience in international projects," said Isaac.
"We have some building innovation experts on our team as well. That is a big part of it, like a key individual minored in cross-laminated timber when he got his engineering degree. So, the right team, the right experience and mainly the overall collaborative attitude that our company has is what we were awarded this on."
The modular units will be completed in Bow Island starting in October and their installation starting in early 2022 by a Seattle company.
"It's going to cement us in the industry as an innovator and really raise our profile as such," said Isaac.
The CLT project will be funded by the State of Washington.
ROC Modular has 40 employees and has a mandate to hire 25 more workers by June.
Isaac says he wouldn't be surprised if the company had 100 staff by the end of the year.
"These townhomes have the potential to spark a revolution in the construction industry," said Neal Bawa, founder and CEO of Grocapitus Investments. "While we see the pace of technology disruption accelerating every day, we aren't seeing the same movement in construction. With housing demand increasing, CLT and modular homes are a solution to building faster, scalable, and more affordable homes."