Straty hired as Cypress County's Emergency Services Coordinator
Posted on May 18, 2021 by 40 Mile Commentator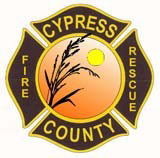 By Justin Seward
Commentator/Courier
Cypress County has hired Brad Straty as their Emergency Services Coordinator.
Straty brings 33 years of experience as a volunteer firefighter in a municipal government setting.
He comes to the County after being the regional fire chief for the last 10 years in the Two Hills and the five years prior was deputy fire chief.
The positions will provide  advice and insight to administration and strives to ensure there is efficient and cost-effective Emergency Services on behalf of the ratepayers.
Straty oversees five fire departments which include approximately 85 paid on call/volunteer members as a regional chief.
He has also completed his NFPA (National Fire Protection Association) courses, ICS 300 and is also a CPR/First Aid instructor.
He will oversee responsibilities such as reporting to the Director of Municipal Services,  being responsible to provide operational leadership to the fire services and emergency management group ensuring that standards in quality, service, cost-efficiency and responsiveness in a rural municipal setting are met. Through the district fire stations, he engages the community and works with volunteers to build awareness of fire prevention safety and to enhance the safety and quality of life of County residents.
Straty will begin June 1.