BIG Garden Centre off to a good start to the 2021 garden sales season
Posted on May 25, 2021 by 40 Mile Commentator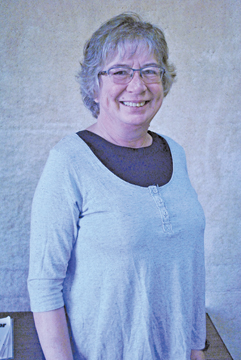 BIG Garden Centre owner Terrie Matz.
By Justin Seward
Commentator/Courier
Bow Island's BIG Garden Centre has been opened since April 15 and business has been steady.
"Good," said owner Terrie Matz, on the start to the season for sales.
The usual out-of-town people and the locals have been flocking to the greenhouse.
"We've been quite busy today (May 17) and it should carry on all week," said Matz.
Basket stuffers and petunias are among the few of the popular items bought for people to plant in their containers.
It has been a hit-and-miss when it comes to supply.
"I couldn't get onion sets. Seed potatoes are not a problem—I've got a few of those—other than some of the varieties weren't available and just various weird things," said Matz.
Matz said there has been a change in wholesale suppliers and that happened in the end of 2019 and into 2020.
"Usually when one wholesaler leaves, somebody's quick to fill in the gap, but there wasn't," said Matz.
"Yeah, it was hit and miss and I had to get stuff from various different suppliers versus the one I usually used in the past—just more of a challenge to get the things here."
Matz thinks business is getting back to normal.
"It sort of felt normal with people having to wear masks," she said.
She has seen the green thumb interest higher than average this year.
BIG Garden Centre kept all their COVID protocols in place.