Cypress Hills expecting another busy season
Posted on May 25, 2021 by 40 Mile Commentator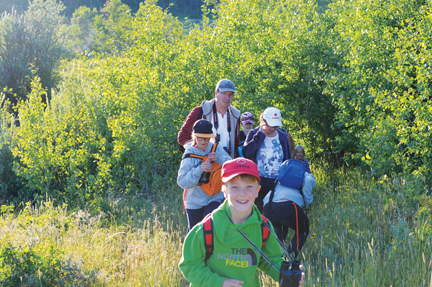 The Goitzsch family, from Saskatoon, had a great time enjoying the Cypress Hills Twilight Trek in this 2016 picture. The Park is expected to be busy in 2021.
By Justin Seward
Commentator/Courier
Cypress Hills Interprovincial Park is expected to see a steady stream of visitors this summer again.
"We're anticipating it to be a very busy summer," said Mike Ractliffe, The Park's head of visitor services.
"It's already been a very busy start. Some of campgrounds opened on Monday (May 17), they're looking at an 80 per cent booking for this week and into the long weekend. Ultimately, we're probably looking at an 80 per cent booking capacity in the shoulder season and during peak season that's (going) up to around about 90-95 per cent. It's shaping up to be a busier season than last season. It's good because it means people are using the outdoors."
Campgrounds were only allowed 50 per cent capacity in 2020 and this year will be at full capacity.
"That's showing the marked increase and visitation just simply by the number volume," he said.
"But honestly when we're into the peak season, I think we're actually looking at around the same numbers. Because once we're full, we're full. We were full for most of the peak season last year and looks like we're going to be full for most of the peak season this year. It's those shoulder seasons that are seeing that increase."
Ractliffe wanted to remind park visitors that there are 205 square kilometres of park out there with 14 different campgrounds.
"There is a lot of space out here to be able to get away from other people and actually share the outdoors in a safe and responsible manner," he said.
"So, anticipating problems, no not really. I think it'll come down to the usual camper issues that we have on a yearly basis."
Ractliffe said with such high phone call volumes coming through Reserve Alberta Parks, it takes some time to get a camping spot.
"Our advice, when people call us at Cypress Hills, is we got three basics things that we say to people," he said.
"And that is book a site that fits, be prepared to be fully self-sufficient and be a good neighbour."
Visitors are encouraged to explore the existing and new trails that are being built in the Park.
"Just use nature because it's such a good boost for your mental and physical well-being," said Ractliffe.
"I think a lot of people are using that type of environment—using the outdoors— to take a break from what's going on in the world right now and try to revive themselves a little bit."