Sgt. Bailey transferred to Lac La Biche
Posted on May 25, 2021 by 40 Mile Commentator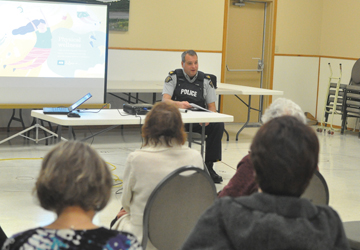 Commentator/CourierFile Photo Bow Island/Foremost Sgt. Neil Bailey has accepted a transfer to Lac La Biche for a Staff Sergeant position.
By Justin Seward
Commentator/Courier
Bow Island/Foremost RCMP is on the hunt for its next sergeant as Neil Bailey has accepted a staff sergeant promotion in Lac La Biche beginning June 11.
Bailey began in the Forty Mile region in February 2018 and his whole time in the area was positive.
"They supported me 100 per cent through all the good and bad times," said Bailey.
"They're supportive through COVID—very pro police area."
During his tenure in Bow Island/Foremost, Bailey felt the local RCMP built a lot of relationships with the municipal councils and collaborate with Medicine Hat Police Service ALERT unit and were able to reduce rural crime through various projects.
Bailey learned more about the community policing and  administration sides of running a detachment in over three years.
"It's  quiet there, hey," said Bailey.
It's just nice to be able to have time to talk to people. You could take time out of your day to stop at somebody's shop or take that extra time during lunch to visit with people. Where in the busier places, you don't have that opportunity because work (is) so piled up."
Bailey feels the detachment is in good hands after his departure.
"We're fully staffed still," said Bailey.
"We have good, solid constables there that are willing to do their best to serve the community."
Bailey has been in  southern Alberta for 13 years (Brooks, Bow Island and Redcliff) and just wanted an opportunity to live in another part of Alberta, which he considers possibly his last posting before he retires.
"(I) just want to experience something different one last time," said Bailey.
The transfer has been in the works since December.
"We found him to be proactive on a number of fronts and defintitely appreciated his leadership in policing in our community and wish him all the best," said Bow Island Mayor Gordon Reynolds.
"It's a nice promotion for him—I think well deserved— and sorry to see him go but it's a great opportunity for him and his family. I hope it goes well."
Redcliff RCMP Cpl. Al Rivard is filling in as acting commander until Bailey's replacement is found.