Redcliff's recycling depot location determined
Posted on June 2, 2021 by 40 Mile Commentator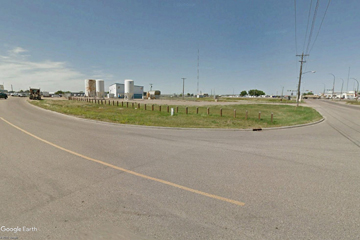 Redcliff's recycling centre will be located at 702 South Railway Drive SE.
By Justin Seward
Commentator/Courier
Redcliff residents will finally have a place to drop off their recyclables after council voted on a location at their May 25 meeting.
Council decided to go with the original location that was presented to them on April 26 after initially sending back to administration for more options for locations.
Town councillors were presented with four locations before deciding.
Coun. Larry Leipert brought the motion forward to select 702 South Railway Drive SE as the location at an estimated cost of $130,076. 97 and administration applying to amend the funding application under the Gas Tax Fund. Any shortfall from the GTF will funded from the purchasing reserves.
Additionally, staff will look into the most cost-efficient solar lighting.
"People have been wanting the recycling in Redcliff for a long time," said Leipert, in an interview on Thursday.
"Certainly, I don't know that there's a real demand for recyclable stuff. I think once we get it set up, it'll enhance our collection of compostable materials and it'll be beneficial to our landfill."
Coun. Cathy Crozier felt it was time to do something about the recycling situation.
"We've been dancing around this one subject as long as I have been on council," said Crozier.
"It's time to do something or get off the proverbial pot. The longer we wait, the more it's going to cost. We might as well pick a chunk of land and get it over with. Especially, if next year the gas tax gets cut like the MSI (Municipal Sustainability Initiative), we won't have that anyway."
Couns. Shawna Gale and Jim Steinke were opposed to the motion.
"I think more work needed to be put into the whole recycling," said Gale.
"You know what's going to be recycled, where is it going, is it just going back to our landfill. Before we even start recycling, should we be putting out education flyers in the mailboxes. It was never put out as a questionnaire to the resident, is this something we really  want? I know that there were a few residents that have been vocal about recycling. But in general, is (this) what the town as a whole wants? Or are we just doing this as what we consider the right thing to do."
Administration will now be doing preliminary work and determine a construction start-up date.