Goats brought in to beautify area around South Country Village
Posted on June 9, 2021 by 40 Mile Commentator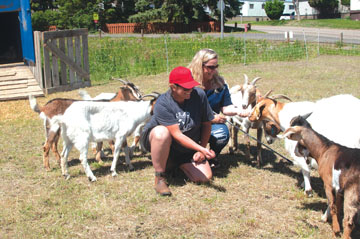 Commentator/Courier Photo by Justin Seward Roxanne Doerksen and Heather Hart feed the goats at the Sun Country Village last week.
By Justin Seward
Commentator/Courier
Cypress County's T.R.A.D Worm Industries partnered with the Hart Goat Ranch to beautify a piece of property in front of Medicine Hat's South Country Village.
South Country Village decided to reclaim the site in front of the property through a natural process.
The project began on May 29 and saw T.R.A.D Worm Industries intentionally allow the planning to have regenerative agriculture on site.
"What we had done is we had put native and cultivar native seeds in here to allow for a grass mix that would be drought resistant, sun resistant and have warm and cool grass varieties to outlive the summer heat, but also be able to come up early so it's nice and green," said Roxanne Doerksen, T.R.A.D Worm Industries founder owner.
"The residents deserve a beautiful thing to look at. One of things that we had talked about is we didn't amend it last year at all—so we didn't come and treat the weeds. We allowed everything and all the grasses to go to seed, so it would start replenishing in itself."
In 2021, biological extract was sprayed on the seeds and everything grew in.
The Hart Goat Ranch brought 56 goats into for their hooves to break up the compaction and their excreta is so diverse in biology that it helps the soil be more biome diverse.
"Which is really important when we're talking about these grass mixes that are so different and we talk about monoculture a lot," she said.
"It's not that it's a bad thing, it's just more expensive in the long run to keep a monoculture going. Whereas, we have warm grasses that show up when 90 kajillion degrees in the summer and the cool grasses are in the spring. We have this layering of all different plants to sort of keep it beautiful. The goats make it neat, no more weeds, and they jump and have babies."
Doerksen said goats have the best stomach and manure biology that work with the process.
The initial plan was for the goats to be there for a month but with them eating well, the stay could be shortened to three weeks.
"The ultimate goal is how could we have a natural site that is beautiful and not full of weeds and doesn't cost a zillion dollars of input every year and the ultimate goal is that the goats will help produce that forward and be cost effective," said Doerksen.
"We're not bringing in American goats to do this, we're bringing in local goats with local experts to mitigate these unruly or reclamation sites in a way that's sustainable."
Doerksen hopes to bring the goats in every year if possible.
"We'll just see the lush grass be better," she said.
"We'll see the flora be better and the pretty flowers earlier and later and not monster water and no fertilizer at all."
Heather Hart, owner of the Goat Ranch with husband Rob and their kids, said in the last couple of years they've had people ask, 'Hey would you ever come in and eat down this weeded area?'
"We were getting all this equipment so we could have the trailer to transport them and electric fence," said Hart.
"And so, we are doing it all around our place and it was working awesome, so this year we were trying to start that, then Roxanne called at the right time and then it just emerged."
Hart added, "They're little mini-lawn mowers and they think weeds are candy. So, they even love thistle, so they will even paw at it and dig at it—so it tastes awesome to them."