Mitchell looks to build numbers as new BIMH president
Posted on June 9, 2021 by 40 Mile Commentator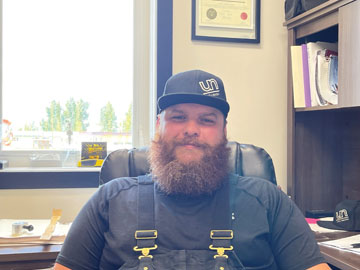 Photo submitted by Jeremy Mitchell Jeremy Mitchell will look for ways to increase numbers for BIMH as their new president.
Jeremy Mitchell was voted in by the board as Bow Island Minor Hockey's new president on May 26.
Mitchell has been on the BIMH board for the past seven years and has two sons who play hockey.
"The volunteerism was definitely tough to get this year for some reason, which I'm not sure why," said Mitchell.
"And we couldn't get anybody to step up into the position. I just talked it through with my wife (Kim) and decided for the best of the community and the success of the Association that I'd give it a whirl."
Mitchell's focus for the board will be to increase the number of players in BIMH.
"Baseball, this year in Bow Island, had 81 kids—so I'd like to see if we can transfer some of those numbers over to hockey," said Mitchell.
His hope is that BIMH does not lose players after a tough season where teams at each level maybe played two games each before being shut down.
"I'm hoping we didn't lose players as per last year—you know that never got a chance to fall in love with a game at a young age," he said.
"Our Association is small enough that we have to join with a lot of communities. So, definitely hopefully we didn't lose any players that found better options or other alternatives. It's a challenge to keep up the numbers in our Association and that's what we're really going to work on."
BIMH is going around to the local schools right now to gauge interest with kids, as well as sending emails to baseball parents to try to gain interest that way and the board has been in contact with other Minor Hockey Associations to discuss how travel can be simplified and costs for the younger age groups to see if younger families would have interest.
Mitchell takes over for Chantel Timmons, who was the president for six years and she will stay on as past president.
"She had the heart for the game and she really cared that our Association did well," said Mitchell, on his predecessor.
"So, if I can show half of what she did, then we'll be OK."