Quonset Days cancelled for a second consecutive year
Posted on June 9, 2021 by 40 Mile Commentator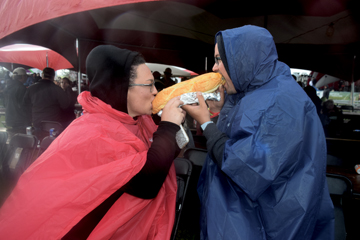 A DELICIOUS MEAL: Kelly and Mike Sehn enjoy a giant $20 Quonset Dog from Premium Sausage at the 2019 edition of Quonset Days. Organizers have cancelled the event for the second year in a row in 2021.
Commentator/Courier
Quonset Days organizers made the decision to cancel the 2021 event on Friday.
"Currently, we are faced with too many uncertainties and obstacles to make the event feasible and so we are regrettably forced to postpone our annual event once again," as read in the release.
"Quonset Days has always been a very social event, meant to encourage new and old friends to mingle amongst each other in an unrestricted environment. Because of this framework, we would be unable to economically enforce distancing restrictions should they still be in place at the time of the event. While the province does seem optimistic about their reopening strategy, it is still the best-case scenario and things could very easily be shut down again by the time of our event."
The uncertainty surrounding permitting also factored into the decision and organizers felt it was too great of risk to wait until for this to come through.
Restructuring the event to the extremes that would be compliant, would be detrimental to our charity and not the Quonset Days that everyone knows and enjoys, organizers say.
Tickets for the 2021 event will be valid for 2022.
Refunds can be organized by emailing quonsetdays@gmail.com .
The event was created as a tribute to Peter Biemans, the father of  Trevor Biemans, who passed away in 2009 to ALS. There were also vendors, a silent auction and tractor races included in on the annual weekend on top of the music.
Quonset Days 2022 is scheduled for July 21-23.
Organizers are planning a different fundraiser this summer.