Talons uniting through ASAA's virtual track challenge
Posted on June 9, 2021 by 40 Mile Commentator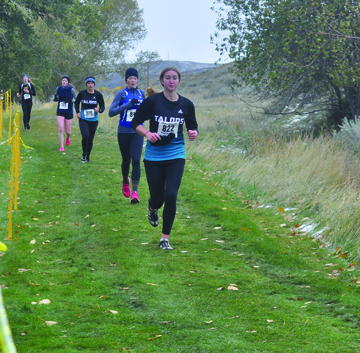 Commentator/Courier File Photo
By Kellen Taniguchi
Southern Alberta Newspapers
With high school sports cancelled for the year, the Alberta Schools' Athletic Association is holding a virtual track and field challenge across the province and students at Eagle Butte High School are lacing up their runners to participate until June 11.
Junior and senior high school students, along with coaches and mascots, are able to submit their best performances in running events, jumping and throwing from their local field or backyard. Students can use the Athletic.net website and app to share their performances and see how well other athletes are doing, according to an ASAA news release.
"It allows kids to still compete with themselves, because we all know track is a personal-best sport," said Darryl Smith, gym teacher and track coach at Eagle Butte. "You can win a race and never run a personal best, or you can get last place and run a personal best. So, this is really a great opportunity for kids to finish the year on a high note."
Smith says he and the other two track coaches are aware of the COVID-19 protocols and are always putting them into place. He says they have to be organized and plan everything out because of social distancing and other guidelines.
"What we're going to do is have some time trials with the nine kids we can have up there and then what we're doing is switching it up every second day," he said.
For example, they may do a 3,000-metre run, a 400-metre sprint and a long jump one day, then two days later run a 1,500-metre, 200-metre and a shot put, says Smith.
The track challenge at Eagle Butte is open for all students, not just those on the track team. Smith says this event allows students with diverse backgrounds and abilities to engage at their level and on their time.
They currently have around 28 students training in track at the school, but Smith says he's even incorporated the challenge into the school's physical education classes. He says they sometimes go out and run an event and he has the kids time each other and write down their results. Smith then imports the students' times into the app, if they wish to have them recorded – it's not mandatory.
"We've taken something that we use anyways and because of the situation we're in, which we adjusted to make it a positive rather than a negative, and maybe next year because we did a little bit more personal bests in track I can go to a student and say they did really great there and you had a positive attitude, why don't you come out next year."
Smith says the challenge allows students to compete, and maybe students who couldn't play basketball, volleyball or other sports will want to come out and say they got to compete this year, even if it was against themselves.