Etzikom Museum set to open
Posted on June 14, 2021 by 40 Mile Commentator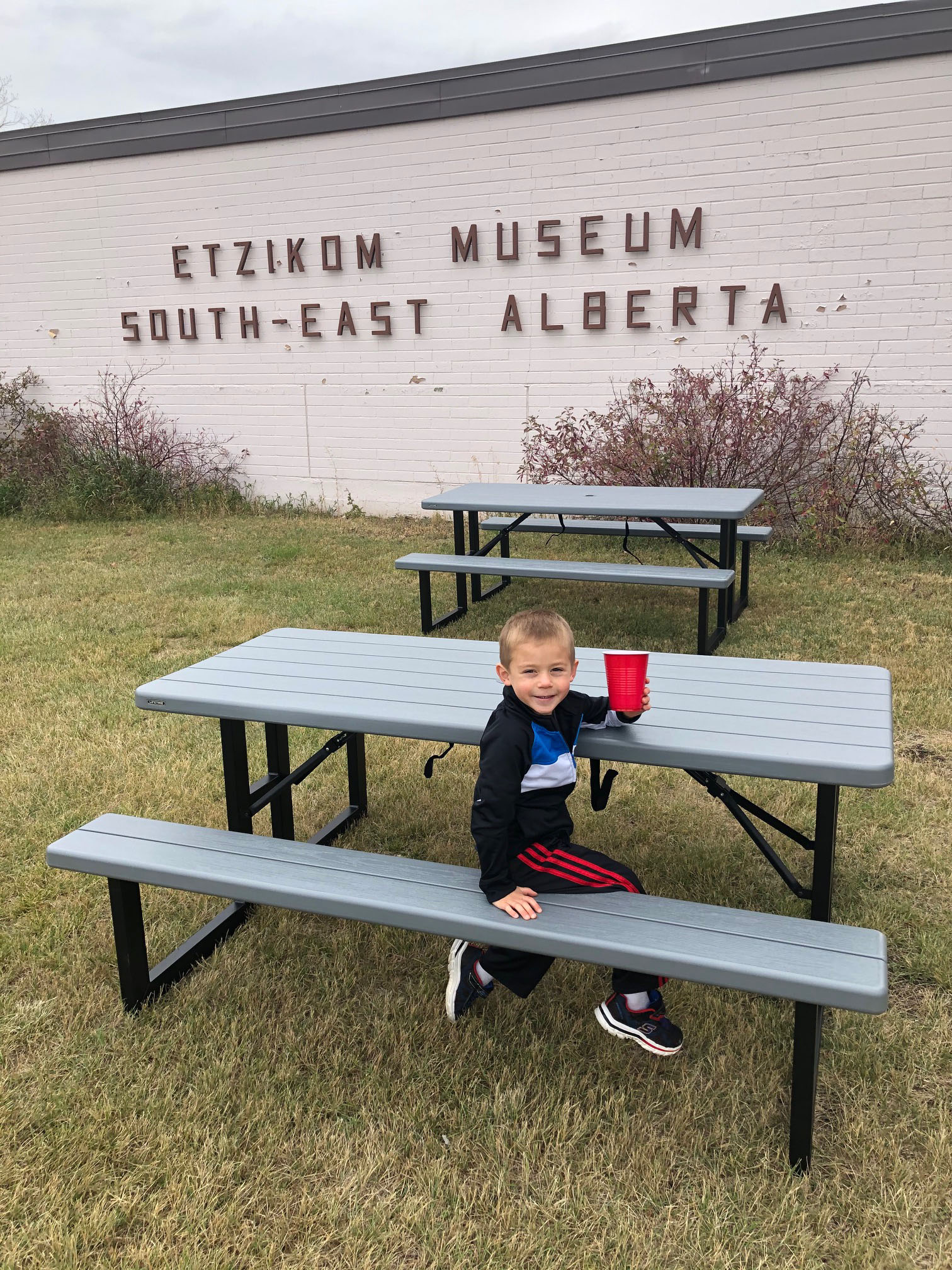 Photo Submitted by Rachel Stromsmoe Jett Stromsmoe enjoying a drink at one of the new picnic tables recently.
By Rachel Stromsmoe,
for the Etzikom Museum
The Etzikom Museum is preparing to open for the 2021 season in mid June when Alberta moves into the Stage 2 Reopening. They had their annual clean-up day on May 29th in preparation for opening. This year they had the assistance of the Shortgrass 4-H Club. As part of the club's requirements, members had  do an annual community project. Kendra Jaeger, one of the club's leaders, approached the Museum to see if there was a project they could assist with. The members worked with each of their households to perform various tasks including outdoor clean-up, trimming bushes/trees, pulling weeds, dusting various exhibits, and sweeping throughout the museum.
The museum has also been busy in the off-season preparing for the 2021 year. Through the Community Foundation of Southeastern Alberta Covid-19 Fund that the museum, received last Fall, they were able to purchase four  new outdoor picnic tables. This will expand the availability of outdoor seating to visitors, as they plan to open the lunch counter and continue to offer light lunch items, squares, ice cream, and homemade pies.
In addition to the picnic tables, the museum also received funding through the Smart & Caring Grant through CFSEA for their Accessibility and Technology Project. This grant will upgrade the accessibility to the Nodwell Service Station which is one of the newest exhibits that is furnished to replicate the feel of a service station and houses antique signage, pumps, and two antique Dodge Brothers cars. Within the next few weeks, gravel will be removed and replaced with paved asphalt to improve wheelchair accessibility to this exhibit. The museum is also working on a new exciting exhibit with an interactive touchscreen. This touchscreen will include games, pictures, videos, and information about some of the different animals of Southern Alberta, various windmills on display, as well as settler life of Southeastern Alberta. Check the Etzikom Museum Facebook Page for updated information on official opening dates. Hours will be  Monday-Saturday 10:00am-5:00pm and Sundays from  12:00 p.m.-6:00pm until Labour Day in September.