Market in the Park begins July 7
Posted on June 14, 2021 by 40 Mile Commentator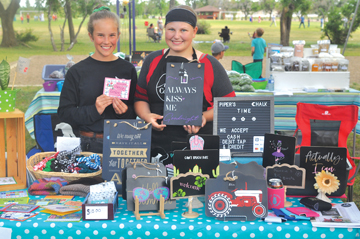 Commentator/Courier File photo Leigha Hansen and Piper Ell were a part of the Chalk Couture booth at the first Market in the Park of the summer at Centennial Park on July 3, 2019. The signs are homemade and made out of chalk paste. The committee decided recently the 2021 event will be a go with restrictions being followed.
By Justin Seward
Commentator/Courier
The annual Market in the Park will begin July 7 and run every Wednesday until Aug. 25 at Bow Island's Centennial Park.
The annual event will see the children's activities continue, a variety of entertainment and vendors setting up a booth at the park and a specific food vendor is being looked into.
"We will be following whatever protocols we have to," said Kathy Nixdorf, Market in the Park committee chair.
"We've had so many people contacting us and really wanting us to do this and yeah we're going to do it. I think it should be good. Obviously, there may be some variations to it, but we managed to do it last year and I think things were a lot stricter last year—so we should be good."
What the committee learned last year to take into this year is any types of protocols that needed to be implemented.
"We explained all those and we're very clear with our vendors about that and all of our vendors were very good at following that," said Nixdorf.
To host another Market in the Park during COVID allows for people to enjoy a community event and to see it grow even more in its seventh year.
"This is going on our seventh year and it has grown steadily each year," said Nixdorf.
"And we have a lot of people who very much enjoy it both as (a)community and as small home-based businesses. That's a way they can get their product out in the community. The variety of people that come out to it, it's so vast. We have so many repeat vendors who just very much enjoy it."
A fundraiser is being planned for the Kale Porteous Splash Park at one of the markets in August.
Vendors can sign up through sending a message through the Market in the Park-Bow Island Facebook page, in which a Google document will be sent back to be completed.
Market in the Park will run from 5 p.m. to 8 p.m.