Medicine Hat and District Food Bank continues to bridge the gap with food costs
Posted on June 14, 2021 by 40 Mile Commentator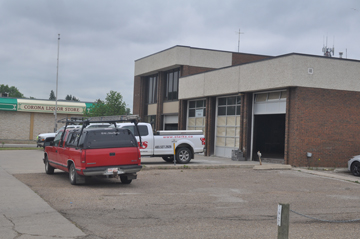 Commentator/Courier photo by Justin Seward The Medicine and Hat and District Food Bank will be opening at its new Food and Wellness Hub soon.
By Justin Seward
Commentator/Courier
The Medicine Hat and District Food Bank has seen an increased in clientele for a number of reasons recently.
"Obviously, people are still suffering with job loss and those things that are kind of affected by COVID," said Celina Symmonds, Food Bank executive director.
"But also, we've seen an increase in the cost of food across the board in our communities and I think that affects the Food Bank significantly as well."
The ways the increased food costs impact the food bank include the number of clients that access the food bank because of the difficulties of finding ways to afford food at personal level, as well as the increased costs to the food bank to purchase goods to put on the shelves.
"We're seeing a 10 per cent increase from this time last month in our food class," said Symmonds.
"Again, two-fold, we have more clients, so we are obviously purchasing more food to service those clients, but also the cost of food has increased."
The Food Bank feels fortunate to have partnerships with local grocery stores to help with costs of the food.
"They have been a huge help in that regard," she said.
"But also, it's a matter of reaching out to the community to let them know that it is time again the Food bank is still requiring their help and still requiring their support."
The main focus is to purchase foods that regular clients have access to, such as items that are a little more expensive.
"So, making sure that our families have proteins and meats and ensuring that our families have fresh fruits, vegetables and all those kind of nutritious meals that are important for all of us right now to be concentrating on," she said.
Along with high food costs comes food security.
Symmonds said as Canadians, food security will be looked at differently in the upcoming years just because people have experienced it at some level.
"I think now we've all felt what it feels like just a bit to have a bit of food insecurity," said Symmonds.
"My hope is that as we come out of the pandemic that the story can be how communities rally around each other, rally around those that aren't food insecure to provide what's needed for that family to become food secure."
The Food Bank hopes that the soon-to-be-opened Food and Wellness Centre in the old fire station on Maple Avenue in Medicine Hat will help increase the client's skills by learning about items that they may not know how to use very well in the kitchen that is being built.
"We're working and looking into the future to get families in the kitchen cooking together and just coming together around food," said Symmonds.
Although Symmonds has not heard of many changes to food costs and security, that when people start going back to work, restaurants reopening and when the community goes back to some sense  of normalcy, she thinks there will be a shift at the Food Bank.
"We know that when any crisis happens, whether it'd be a flood or any kind of emergency, the Food Bank in that area takes 10 years to recover," she said.
"We've never had to recover from a pandemic before, but we suspect that we'll see that 10-year recovery period, if not a little bit more."