Senator Gershaw to celebrate 2021 graduates June 17-18
Posted on June 14, 2021 by 40 Mile Commentator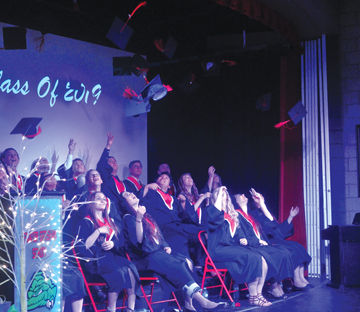 Your Senator Gershaw School 2019 graduating class. The 2021 class will be walking the stage later this week.
Submitted by Scott Angle, Senator Gershaw principal
Senator Gershaw School's plans this year are on June 17th to have a parent night followed by an abbreviated cap and gown ceremony with our graduates and parents only. On Friday June 18th will be our more public live streamed graduation ceremony with graduates dressing up in their formal attire and completing all graduate congratulations and addresses. This will be held in the Senator Gershaw Common Area as we have fire code capacity to have a good number of guests for each graduate.
"The benefit of moving graduation inside the school as we have the facility ready to have a graduation and we will not be weather dependent," said Angle.
"Following our graduation ceremony on June 18th we are planning a parade of graduates down Centre Street of Bow Island at approximately 8:30 p.m. to allow for community members to congratulate our graduates. Although this is an alternative format to traditional Senator Gershaw graduation ceremonies, we look forward to celebrating our graduates and their achievements through the past 12 years and especially the last year of challenging schooling."
The livestreamed graduation ceremony can be viewed on the Senator Gershaw School Facebook page.
Meanwhile, Cherry Coulee Christian Academy has decided not to hold a ceremony this year.