Antelope Fencing program coming to Orion
Posted on June 23, 2021 by 40 Mile Commentator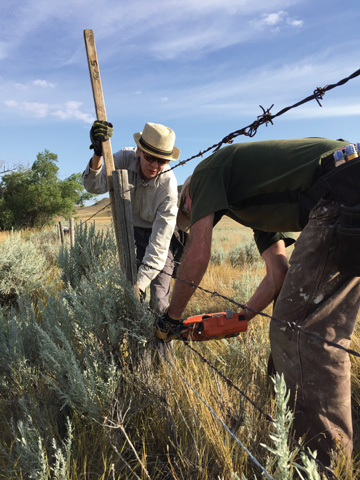 Photo Submitted by T.J. Schwanky Volunteers are pictured here installing antelope fencing in a file photo.
Pronghorns will have an easier time navigating the landscape for years down the road in the southern Alberta region thanks to a generous grant from the Alberta Conservation Association (ACA) and the Alberta Fish and Games Association(AFGA) managed Minister's Special Licence programme.
The Antelope Fencing program is where the AFGA  works with private landowners and government agencies across Alberta to try and make cattle fences friendlier for Pronghorn Antelope to cross.
AFGA started working with CFB Suffield together with the Department of National Defence in 2009 to bring up their fences to more wildlife-friendly standards.
T.J. Schwanky is a Wildlife project facilitator with AFGA and said, "The project was such a success that they decided to continue on with it."
It was a year later that the project expanded to private and leased land in prime pronghorn range in southern Alberta.
"Typically, Pronghorn Antelope won't jump a fence, so they need to crawl beneath it and if the wire isn't high enough, they can't get beneath it," said Schwanky.
"And even on fences with the wire high enough, a lot of times with barbed wire, it causes fur damage on their backs and may cause scrapes, and things like that can turn into more serious injuries."
Volunteers are tasked with working with a four-strand barbed wire fence, where the bottom strand is removed and replaced with a two-strand smooth wire with a length of 18 inches.
The above wires are respaced to wildlife-friendly standards.
"The big important part of this is getting that bottom wire set at 18 inches and that allows the pronghorn to easily crawl under it," he said.
ACA does the science aspect of the project and do radio-collared pronghorns to identify key migration routes.
"They identify land holders along those key migration routes and make arrangements with them that we can do these projects on their properties," said Schwanky.
Three projects are done every year and ranges from 12 to 16 kilometres of fencing.
"The biggest thing is it allows them to migrate without interference," he said.
"Once they (volunteers) go in and do this fencing, they can cross anywhere."
With smooth wiring that is used for the project, there less injuries to the Pronghorns being noticed as well as being able to flee from predators much easier and staying off the highways more.
The fencing project is coming to Orion on July 17-18.
"There is a huge amount of Pronghorn there," said Schwanky, on bringing the project to the Orion area.
"And it's right in the middle of a major migration route. We've done 20 or 30 fencing projects kind of in the Orion, Manyberries, Foremost area, all the way down to the One Four. It's probably one of the most prime areas in the province for Pronghorn."
The project has seen 1,500-man days of volunteer labour and over 700,000 hunter and angler dollars invested in to over 500 kilometres of fence built  in southern Alberta.
Other fencing building projects nearby include Milk River on Aug. 7-8 and in the Acadia Valley on Sept. 11-12.
More information on getting involved with project  can be obtained through emailing Schwanky at tj-afga@shaw.ca.