CCCA donates Yip program funds to Prairie Gleaners
Posted on June 23, 2021 by 40 Mile Commentator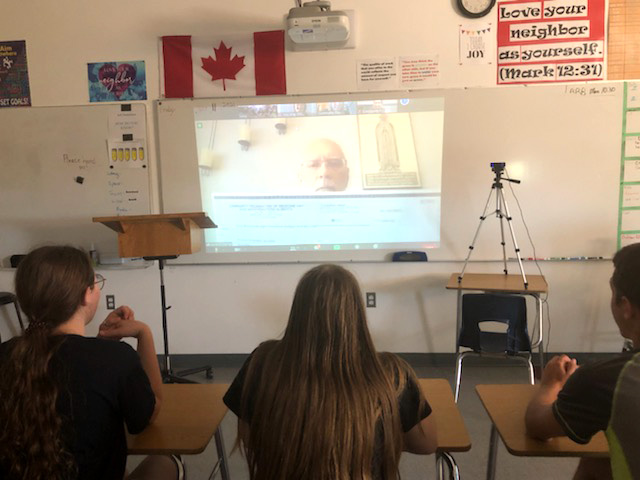 Commentator/courier PHOTOS SUBMITTED BY Michelle MacLean Prairie Gleaners board president Ed Codding holds up the cheque from the YiP program in a virtual presentation with the CCCA YiP students on June 14.
By Justin Seward
Commentator/Courier
Four Grade 10 Cherry Coulee Christian Academy students completed their Youth in Philanthropy (YiP) program with the donation of $1,800 to Prairie Gleaners on June 14 through a virtual presentation.
The Community Foundation of Southeastern Alberta- led Yip program is a leadership development initiative for local high school students in the southeast region.
The participating high schools form a student-led committee to oversee the allocation of $10,000 in grants to local charitable organizations.
A benefit of the program is it reaches youth from a variety of socio economic and cultural backgrounds.
"The students, they form a committee, and do research into different community organizations—charitable organizations— and then they go ahead and they  do a presentation before the rest of the committee in order to choose whichever organization," said Mike Daniels, CCCA principal.
Students had the option to choose one or more organizations to allocate $1,800 to and their end decision was Prairie Gleaners.
The local Prairie Gleaners is located in Cypress County and is a Christian-based volunteer organization that support resource poor communities with the donation of food, materials and supplies.
"They (the committee) found that with Prairie Gleaners because they only have two paid employees, the rest is volunteer, that the less money would go to administration costs and more would go to the actual people who are in need that way," said Daniels.
"The second thing was with all this stuff happening with COVID, they knew and understood that there's been a greater need this year for food in other countries than ever before . And so, they kind of felt that it was particularly vital during this time in order to help get more food in the hands of the people who need it."
Daniels thought the committee saw giving in a  different sense during the six-month program.
"On one hand, doing all of their research, they come to understand that even though we live in a rural community—and we think of a lot of the needs that people have are from bigger centres— that they found out just how those needs are still present in and around Bow Island. Another thing is every year myself and other teachers take the students out to do service work. A lot of times we'll go to Lethbridge and work at the Lethbridge Soup Kitchen or we'll work at the Salvation Army or go into Medicine Hat and work with Coldest Night of the Year and go to Prairie Gleaners and do that sort of work. It's always been from their perspective anyways, serving physically—which is great and they love it. But this gave them a totally different perspective because they've never had a bunch of money just to bless an organization or help them out."
Prairie Gleaners were grateful for the school to think of them.
"We're honoured to be chosen,"  said Ken Martens, Prairie Gleaners plant manager.
"I understand that they had number of other organizations that they reviewed as well. So, anytime you're chosen with a sizable donation like that, we're definitely honoured."
Martens was on the virtual meeting  was impressed with how informed the committee was.
"They were quite articulate in sharing the information that they had gathered and so that impressed me," said Martens.
The funding will go to projects.