CFSEA looks to establish a Cypress Community Fund
Posted on June 23, 2021 by 40 Mile Commentator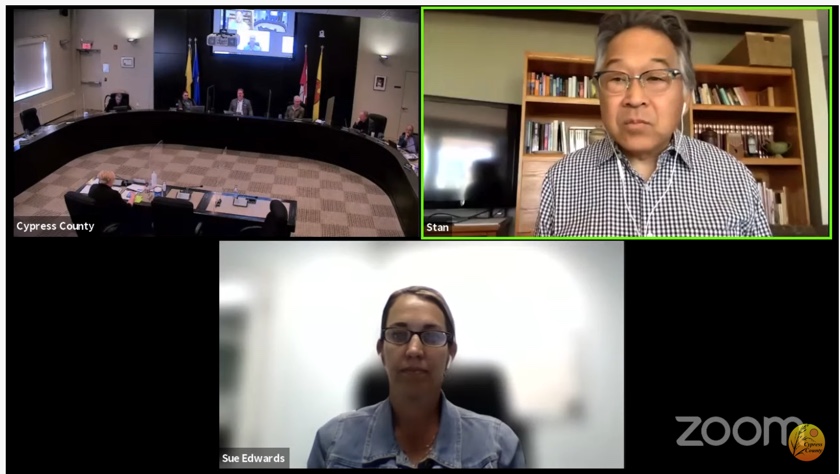 Commentator/Courier photo by Screenshot Community Foundation of Southeastern Alberta executive director Sue Edwards and board member Stanley Sakamoto spoke to Cypress County council about the organization on June 15. The hope from the conversation was to get the ball rolling on establishing a Cypress Community Fund.
By Justin Seward
Commentator/Courier
The Community Foundation of South Eastern Alberta presented to Cypress County council on June 15.
CFSEA is registered charitable organization that operates under a diverse group of community-minded volunteer board of directors.
The nearby rural funds to Cypress County include the Rural Community Fund of Forty Mile, Prairie Crocus Fund and the Brooks and District Community Fund.
"In each of those three districts, they each have their own advisory committee," said Sue Edwards, CFSEA's executive director.
"Their advisory committee is made up of a chair and then nine volunteer community members who then advise the rural coordinator that we have working for that area on issues in their area, needs in their area, individuals that may be interested in donating to the Community Fund. So, they play a very important part to the Community Foundation."
CFSEA is looking to set up a Community Fund in Cypress County.
"When I started working for the Community Foundation back in 2019, the three rural community funds has just been started and my question was— coming from Cypress County, being born and raised in Cypress County—I'm like why we don't have one in Cypress County?" said Edwards.
"It has been my quest to get one established in Cypress County. However, COVID kind of put the brakes on that and so now we want to go full street ahead. It really allows individuals to give where they live and have a say where that money would go then within their community."
Edwards said the Cypress Community Fund would be established by the residents of the county.
"The fund is exclusive and only will benefit the people of the organization in Cypress County," she said.
CFSEA is looking for representation from the County.
"We're looking to connect with community-minded people in your represented areas that would be interested in sitting on this advisory committee and being a part of a new philanthropic moment in your area," said Edwards.
Deputy Reeve Richard Oster said , "I want to compliment you on your persistence."
"It's been about a year-and-a-half at least since we've first started talking about doing a presentation in front of council. Our goal was always to have it face-to-face and I don't think anybody knew how long this was going to drag on. So, Tarolyn (County chief administrative officer Aaserud) suggested Zoom as way of finally getting this done. (It was) very informative and I see (a) lot of positive stuff."
The foundation goes off three pillars of Grow, Give and Inspire.
CFSEA likes to inspire by being leaders in the community.
Grow means seeing every donation that is prudently invested for the long-term benefit of Southeastern Alberta.
The investment income from the original donated gift will benefit local charities indefinitely under the growth umbrella.
Donors create funds in their family name in memory of a loved one and for a specific charity or scholarship.
A Heritage Club and Rural Community Endowment funds have also been created.
CFSEA gives out Smart and Caring Grants, Community Impact Awards, host a Youth in Philanthropy program and vital people in the community are recognized.
CFSEA was founded by John Ignatius, who made is first donation in 1992 of $25,000.
Ignatius died in 2000 and left a vast majority of his estate to the Foundation and his financial contribution in excess of $2.4 million—which was the third highest legacy given to the Foundation.
CFSEA's endowment fund sits at over $23 million to date.
The Foundation will be celebrating 30 years in the community in 2022.
People who are interested in the Cypress Community Fund can contact Edwards at sue@cfsea.ca.