County has many concerns as a new fire services agreement is being worked out with AEP
Posted on June 23, 2021 by 40 Mile Commentator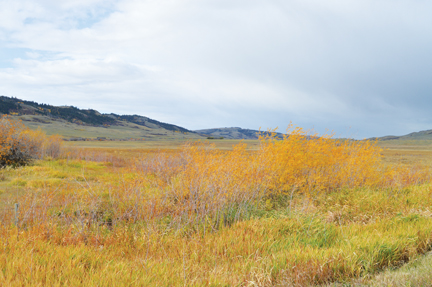 By Justin Seward
Commentator/Courier
Cypress County's chief administrative officer Tarolyn Aaserud had notified council at their June 15 meeting that the municipality has had weekly meetings with Alberta Emergency Management and Alberta Environment and Parks to work on new fire services agreement for the Cypress Hills.
The level of service has been an issue for over 20 years.
Aaserud said the new fire services agreement— the new level of service, was tied up with a legal from the province.
"It's very unfortunate that we're not included in the process, but there is an expectation we're going to be there when they (AEP) need help," she said.
The County has been in contact with AEP in hopes of not having the trend continue of what the expectation is for the municipality's professional fire members in Elkwater.
"I believe it was (sent) back to Peter (Swain, AEP south director) for their signature," said Aaserud.
"So, that's a movement."
The County's director of municipal services, Jeffrey Dowling, explained that "Cypress County will follow our Policy FP12-Fire Service Level of Service, which dictates what the Elkwater Fire Station is capable of and prove to provide in terms of service."
The terms of the draft agreement that was sent to the province would see county firefighters responding if there was a fire in the cabins, in the campgrounds, a car accident and a medical first response requirement.
"If the fire ignites and initiates in the forest, then we would provide mutual aid in that regard," said Dowling.
"Then of course if the fire spreads to the cabins, we would be fighting the fire in the townsite."
Coun. Shane Hok had asked about if the County has made any progress with discussions about emergency routes in the Cypress Hills.
"We're getting into summer and it's looking like we could have a hot, dry one and starting a fire up in there is more real every year," said Hok.
Aaserud responded by saying emergency routes are on the list.
"When it comes to the routes, AEM on our meeting yesterday (June 14), they've noted that evacuations is one of the glaring issues that need to be addressed," said Aaserud.
"The conservation officer is working on an evacuation plan (and) identifying that."
Deputy Reeve Richard Oster said as for the escape route, it was discussed last fall and was going to be dealt with immediately.
"Cypress County did contact the landowner and confirmed that they were OK with that road to the west being used as an emergency exit," said Oster.
"But there was some paperwork that needed to be done on Alberta Parks side and it never got done. We asked that it was to all be in place before the camping season. I'm pretty disappointed in this.  It's just ridiculous how it's dragging out."
Dowling noted that it will be important to identify where that emergency access is and what the current status of it is.
"So, that means taking a tour and doing an inspection," he said.
Aaserud said AEP still believes that under the Prairie Forest and Protection Act that it's the County's responsibility when it comes to making emergency routes.
"This is where the whole legal thing is coming through," she said.
"Alberta Emergency Management is like, 'No, that is yours.' We in an anomaly. We'll use Kananaskis Country, they're in a proven district, so they have their own identified government. The Park doesn't, but it has a townsite—so that very much muddies the waters."
It was determined back in 2013 that the Cypress Hills Interprovincial Park could not be a proven district because the area could not be viable or sustainable.
Coun. Robin Kurpjuweit was on board with getting the local MLAs involved.
"It's a lot easier to apply pressure passively without creating conflict than to try to restart something if it kind of halts," said Kurpjuweit.
"I think just the fact that it's taken 20 years to get where we're at, I don't think it's outside the realm of possibility for it to get through this year and still have action on it. I would be very supportive of talking with Drew (MLA Barnes)."
Council approved Kurpjuweit's motion to invite local MLAs Drew Barnes and Michaela Glasgo to get involved with the facilitation of the fire services and Alberta Emergency Management agreement with Alberta Parks.