Redcliff Canada Day festivities cancelled
Posted on June 23, 2021 by 40 Mile Commentator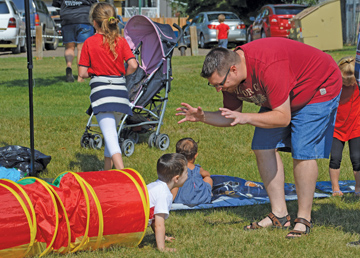 Commentator/Courier File Photo Jason Ottenbreit and son, Mason share in some family fun at the Canada Day celebrations at Lions Park in Redcliff.
By Justin Seward
Commentator/Courier
Redcliff town Coun. Cathy Crozier put the motion on the floor to have a scaled back Canada Day event at council's June 14 meeting.
However, the motion was defeated by council because of concerns over current COVID restrictions, which resulted  in the cancellation of the July 1 events at Lions Park.
"With the unknown about when Phase 3 is coming, it's hard to have a small-scale interactive anything because that's not the COVID rules," said Redcliff Mayor Dwight Kilpatrick.
"You're allowed to have public gatherings (of) 150, but then you need to be socially distanced and face masked. The Lions Club did not want to partake this year—they're our partners in that.
They're half the reason why it's a success because they're putting on the breakfast and the hot dogs."
The Lions Club opted out of of hosting the pancake breakfast this year due to the lifting of the COVID outdoor public restrictions being lifted close to the event.
The town would have had to round up volunteers in two-and-a-half weeks.
"I guess maybe I'll say we took the easy way out," said Kilpatrick.
"It was easier to cancel it than trying to figure out a way to do it."
Kilpatrick did not think the decision was ideal for council.
"I don't think anybody thought it was wonderful," said Kilpatrick.
"Here we are having great weather. It would be nice if people can get out and do something as a community. But truly as long as these COVID rules are here, you can't do a lot as a community."
Couns. Eric Solberg and Shawna Gale were also against Canada Day 2021 along with Kilpatrick.
Couns. Chris Czember and Larry Leipert were for the scaled down event along with Crozier.