Cycling gaining more popularity in SE region
Posted on June 28, 2021 by 40 Mile Commentator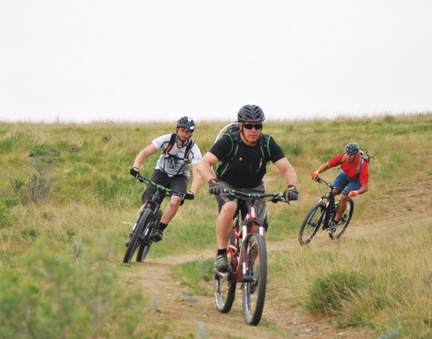 Commentator/Courier File Photo.
By Justin Seward
The 670 Collective Mountain Bike Club is seeing tremendous usage of the local area trail systems this season.
Club president Ben Roscoe says you always have your core avid cyclers in the area that have been doing it for years, if not decades.
"But then you also have your people that are just, can we say, a critical mass movement towards it," said Roscoe.
"You're just seeing it more prevalent in everything. It's just more mainstream and becoming more popular in general everywhere. And with the huge amount of trails that are getting put in into our little corner here – Elkwater, Redcliff, the city has some new trails coming in between Gas City Campground and Echo Dale as well. Like I said, we do have a pretty big shoulder season going into fall and spring – we're starting to become a little bit of a recognized area for this."
Riders can experience a variety of single tracks in the area.
"It's a definite unique riding experience and that's a part of the neatness of our area," said Roscoe.
"You have that badlands-layered coal Fred Flintstone experience out in Redcliff and 45 minutes down the road, you're in Elkwater – it's the highest point between Newfoundland/Labrador and the Rockies-and you're in Lodgepole forest, lone dirt riding, real mountain biking," said Roscoe.
The COVID-19 pandemic has made a huge impact on the cycling industry.
"It's absolutely exploded this industry beyond its ability to keep up as matter of fact," he said. "People are getting out and experiencing more. We'll see what time does, if people stay loving it or if it drops back to not loving it.
"There's definitely an uptick in ridership."
Club memberships have increased 25 to 30% over the past year.
The club tries to promote the trail systems through its social media platforms.
"People reach out to us and we respond pretty quickly to give them information and what's happening on the trails," said Roscoe.
Word of mouth about the trails has been spreading to other communities as well.
The development of trails by the Redcliff cemetery will be ongoing this summer, work on the Elkwater trails is underway and the Echo Dale trail.