Full slate planned for Canada Day celebration
Posted on June 28, 2021 by 40 Mile Commentator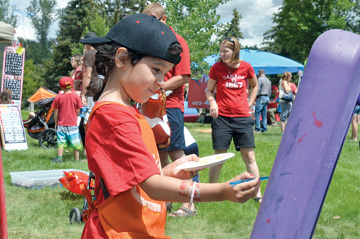 July 1, 2018 NEWS PHOTO MO CRANKER Five-year-old Brinley Hudson does some painting during the Canada Day celebrations at Kin Coulee Park.
BY Kellen Taniguchi
Southern Alberta Newspapers
Stage 3 of Alberta's Open for Summer plan is set to begin on Canada Day and the Medicine Hat Exhibition & Stampede is ready to host the city's first event with no COVID-19 restrictions in place, however the Stampede's general manager says it will still have safety protocols in place.
"We'll have hand sanitization stations everywhere, we'll still be encouraging people to space out and not necessarily gather right next to each other and if people want to wear masks, they're definitely encouraged to," said Kara Brake.
The government hasn't said if masks will still be required in Stage 3 of its reopening plan.
Brake says they have been having meetings over the past month and had plans for Canada Day for Stage 2 and Stage 3 of the re-opening plan. She says they were hoping for a Stage 3 Canada Day and were prepared either way.
Gathering sizes are no longer restricted to 150 people in Stage 3 of the Open for Summer plan and Brake says it will allow volunteers to help in other areas and not worry about crowd numbers.
"What it does is it allows our volunteers to walk around a little bit more and help out a little bit more, rather than having to stand there and count people coming in and out," she said.
Canada Day will be a full-day event at the Stampede grounds this year, starting with a pancake breakfast at 8 a.m.
"We've got lots going on, lots of family activities and multi-generational things," she said. "We got a pancake breakfast going on in the morning, we got family activities in the afternoon and then the evening we'll have night shows, followed by fireworks and like I said we'll still have those safety protocols in place to let people know we're still interested in keeping them safe while they're here," said Brake.
Family activities are set to start at noon, with fireworks lighting up the Hat sky at 11 p.m.
Brake says the community has supported the Medicine Hat Exhibition & Stampede often and she's excited to host an event for the community.
"We're really excited. It's been a long time since we've been able to have people at our grounds," she said. "So, being able to welcome them for Canada Day I think is a great way to celebrate, especially with a lot of the activities that we have planned. I would say all of our volunteers, our staff, our board of directors, they're all really excited to be able to welcome people back to the grounds," she said.