County now on a fire ban
Posted on July 5, 2021 by 40 Mile Commentator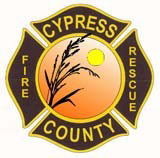 By Alex McCuaig
Local Journalism Initiative Reporter
Cypress County is elevating its fire restriction to a ban as a record heat spell continues to wrap the entire province in a furnace-like embrace.
"Every day that is hot and dry is a day the extreme fire scale will go up," said Cypress County Fire Chief Brad Straty.
That risk is only expected to rise over the next seven days with daytime temperatures expected to remain in the mid-30-degree range or higher with no rain.
Straty says not to be deceived by the green tops of prairie grasses as a large fire load of dry materials is lurking at ground level.
The county fire ban is on any open flame from campfires to burn barrels along with anything else that could spark a blaze or be considered an open flame, "until we get through this heat spell," said Straty.
That also includes fireworks.
He added, "one spark is all that it will take."
As far as preparedness, Straty says, "our guys are on the ball," but added, "as soon as that call comes in, time is of the essence."
Straty is urging smokers to stop flicking cigarette butts out car windows – a situation which is suspected to have already caused several ditch fires this past week. It's also a concern that such fires – while usually easy to tackle – could lead to much more serious situations if multiple grassfires are burning at once.
"They need to be responsible," said Straty of smokers.
The Special Areas also elevated their status to fire advisory while the City of Medicine Hat has initiated its first fire ban in 15 years following a large grass fire that broke out over the weekend.
Huge parts of the province are also seeing increased restrictions due to the hot dry conditions.
Cypress Hills Provincial Park is also expected to see restrictions put in place in the coming days. However, as of Tuesday afternoon, none of Alberta's provincial parks have any restrictions or bans in place.
Details on municipal fire bans can be found at albertafirebans.ca while the latest situation in provincial parks can be located by visiting albertaparks.ca.
New chief in county
The fire risk situation comes just as Straty finishes his first month as Cypress County chief having started on June 1.
While new to job, Straty comes to the county with 13 years of experience as regional fire chief in the County of Two Hills.
Straty says he has been visiting family in the region for years and said leading up to the county posting, "if we ever an an opportunity to move down here, we'd look at it."
The county chief position came up and Straty says he is, "very grateful for the opportunity."