Friday Market begins July 9
Posted on July 5, 2021 by 40 Mile Commentator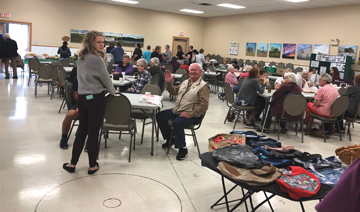 Commentator/Courier Photo by Samantha Johnson. A customer appreciation was held on the afternoon of Sept. 13 at the last Friday Market of the year in 2019. The Market returns Friday after a one-year hiatus.
By Justin Seward
Commentator/Courier
The annual Friday Market at the Golden Age Centre returns Friday after a one-year absence due to COVID.
"It should be the same as when we last held one I would think," said Bev Rapsom, Friday Market vendor coordinator.
Vendors include the different colonies coming in each Friday to sell fresh produce as well as homemade wood working pieces, sewing, baking and jewelry to name a few.
"We're just getting started," said Rapsom
"So, we usually get more vendors as we go along."
It is important for the Friday Market to run this year because of the social aspect it brings.
"We always have coffee and cake and it's a really social time for people," she said.
"Yeah, it's just a social afternoon really."
The hope every year is to have more vendors and bring out more people.
Rapsom added, "Everybody is happy to be back."
Friday Market runs every Friday from July 9  until Sept. 10 from 2 p.m. to 4 p.m.at the Golden Age Centre.
A bingo is to follow the Market on the first and last Fridays of the month at 7 p.m.
Vendors can sign up each week by contacting Rapsom at (403) 545- 6563.